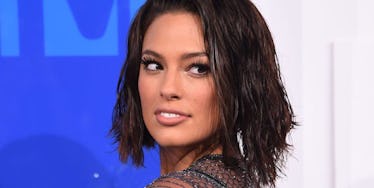 Ashley Graham Speaks Out On Vogue Cover Pose That's Pissing Everyone Off
REX/Shutterstock
Ashley Graham is in hot water over a photo shoot that has a lot of people upset with the model.
The 28-year-old posed for the cover of Vogue's March issue with six other women, including Kendall Jenner and Gigi Hadid.
The ladies wore colorful shorts and black tops as they wrapped their arms around each other.
However, a lot of people were upset with Ashley Graham's pose.
If you look closely, you'll see Ashley is the only model in the shoot with her arm covering her thigh instead of wrapped around another woman.
Fans assumed the pose was a way for Ashley to cover up her curves instead of celebrating them.
And many people were upset about the overall lack of diversity in the photo.
Well, on Wednesday evening, Ashley Graham responded to the haters about the pose that's pissing everyone off.
In the Instagram comments section of her post, she defended Vogue and wrote,
I chose to pose like that.. no one told me to do anything.
She also added another pic of the ladies running and jumping on the beach.
However, she failed to address another part of the pic that has people upset: Ashley is the only model wearing all black.
It's unclear if Vogue intentionally had Ashley wear all black to slim her thighs, but at least now we know Ashley did help direct some of the shoot.
The model is never one to hide her curves from the camera and she's all about promoting body acceptance and positivity.
It would seem a bit odd to have her intentionally cover up her leg to blend in with the other women. Maybe her arm just got tired? Or maybe she just had to scratch an itch... who knows!!!
Either way, I'm still a fan of yours, Ashley. Keep doin' your thing, girl.
Citations: Ashley Graham Defends Vogue Photo Shoot (E Online)