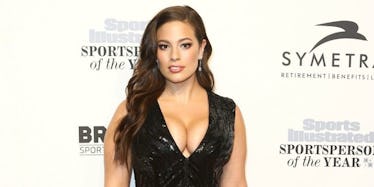 Ashley Graham's Vogue Cover Has A Small Detail That's Pissing Everyone Off
REX/Shutterstock
Landing on the cover of a prestigious magazine like Vogue should be a purely celebratory occasion. However, for plus-size model Ashley Graham, it appears it's going to be anything but.
Wednesday, we got a clear look at the 29-year-old Graham on the cover of the March issue of Vogue, alongside models Kendall Jenner, Gigi Hadid, Liu Wen, Imaan Hammam, Adwoa Aboah and Vittoria Ceretti.
As you can see in the photo below, the women on the cover of March Vogue look absolutely stunning.
To caption their Instagram photo, Vogue magazine wrote,
With our March issue, Vogue celebrates modern American women. Click the link in our bio to read the full cover story. Photographed by @inezandvinoodh, styled by @tonnegood. #Vogue125
Seems innocent enough, right?
Well, as many on social media have already pointed out, it appears the one thing Vogue didn't celebrate was Ashley Graham's naturally thick, curvy body.
If you take a closer look at the cover of the March issue of Vogue, you'll notice Ashley Graham is the only model out of the seven cover stars who is covering her thigh with her arm.
Unfortunately, it appears most folks don't think this is a coincidence.
Bit of a shame that Ashley Graham was the only model who had to use her arm to cover her thighpic.twitter.com/Vw6u9Wb9ej — Jessica Barrett (@jess_barrett) February 8, 2017
Another Twitter user, @Livsdarling, also pointed out how Ashley Graham is the only model on the cover who is wearing both a black top and a black bottom.
I mean, there's no way to say for certain plus-size model Ashley Graham was made to cover her thigh and wear black shorts because she's larger than every other model on the cover of the March issue of Vogue, but if this smells fishy to you, well, you're probably not the only one holding your nose this week.
Care to comment, Vogue?
Citations: Why This Ashley Graham Detail On Vogue's New Cover Bothers Us (Refinery29)