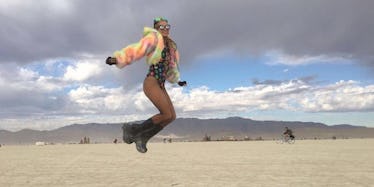 That's Hot: Paris Hilton Is Making Sand Angels In The Desert At Burning Man
Instagram/ Paris Hilton
Hey there hotties! It's just about time to check back in with Paris Hilton and see how Burning Man is treating her and her 7,000 braids.
Vital Update: She is..................... ALIVE.
Our girl P Hil gathered her squad and headed out to the Nevada-based festival two days ago.
Paris has survived the Black Rock Desert thus far.
She has her brother Barron by her side to remind her to stay hydrated while she takes cleavage selfies.
The Hiltons were also joined by fellow celebrity siblings Poppy and Cara Delevingne.
The 35-year-old had plenty of time alone, too. To commune with nature, or whatever.
Despite the desert heat, Paris is riding that rave bike all over the damn joint.
Paris, listen mama. You made it this far, but don't get too confident and let things fall through the cracks. Drink water. Take bike rests. Use Cara's brows for shade during especially hot days.
We all want to see you have a frecken seck time out there, but we also want to see you come home safe and unchapped, if possible.
Citations: Paris Hilton Appears to Be Having a Great Time at Burning Man (Cosmopolitan)