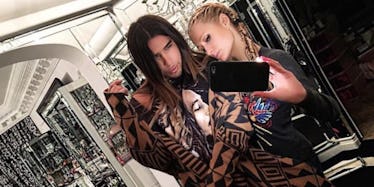 If Paris Hilton Can Survive Burning Man, Anyone Can
Instagram/ Paris Hilton
Burning Man may seem intimidating: the lack of emphasis on consumerism, the scorching desert heat, the recycling.
Still, if Paris Hilton can survive it, you can.
Paris isn't worried about wasting away in the Black Rock Desert, despite the fact Burning Man's survival guide warns it is "trying its best to kill you."
Paris' chief concern is actually her braids.
So boho chic, girl! LOL, but for real, you need to respect the very real threat that is Mother Nature! Hehe!
The 35-year-old's Medusa braids, crafted by her boy Chris Dylan, are all she needs to make it a full week at a sprawling Nevada bonfire retreat.
Adorbs, mama! Haha, LOL, stay hydrated and don't get too drunk near fire!
Paris doesn't share your first-timer anxiety over seven days at Burning Man.
She doesn't need summer after summer full of festival experience to know it'll be "magical."
If you're not going to be chill about this whole thing, get out now. The Paris Hilton caravan only has room for the coolest gd cucumbers this year.
~A Paris in the desert. A culture of Parisibility. A network of dreamers and Paris.~