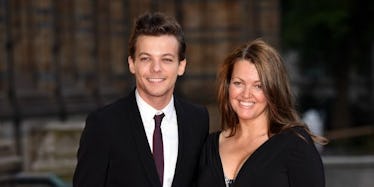 1D Star Louis Tomlinson Opens Up About His Mom's Death For The First Time
REX/Shutterstock
One Direction's Louis Tomlinson is an incredibly brave man.
Last May, Tomlinson's mom, Johannah, was diagnosed with Leukemia. She passed away in December.
Just days after his mom's death, Louis Tomlinson performed "Just Hold On" on The X Factor UK.
This was the One Direction star's first performance as a solo artist.
Now, in a recent interview, Tomlinson opened up in full about his mom's death for the first time and revealed how her diagnosis almost forced him to leave the music industry forever.
Speaking with Steve Aoki on Sirius XM radio this week, the 25-year-old said,
It's not something that I feel 100% comfortable talking too much about but just quickly, when I first found out the news I kind of did want to throw the towel in. But it was my mum who said to me that I've just got to keep going, telling me very sternly that she wanted me to. So I'm not doing it for her but...
Tomlinson also opened up about that powerful performance on The X Factor UK. The South Yorkshire, England native said,
It was tough, but I felt like it was nice for me to almost have a little send-off for her.
After Louis Tomlinson's mom passed away, Louis and his family received an outpouring of love and support.
Following Johanna Deakin's death, her husband, Dan Deakin, took to his late wife's Twitter account to give one final message from Louis' mom to the world.
In the tweets above, Dan Deakin said,
Hi, it's Dan. Johannah asked for me to send this afterwards. She wanted to thank you all, and to let you know that you have been amazing right from the start. You changed Louis' life, but also her life. Your support now is as strong if not stronger than ever. So from Johannah one last time, thank you for everything xxx.
We're all rooting for you, Louis.
Citations: Louis Tomlinson Opens Up About His Mom's Death For The First Time: 'It Was Nice For Me To Almost Have A Little Send Off For Her" (Perez Hilton), Louis Tomlinson opens up about his mother's tragic death for the first time (Yahoo!)