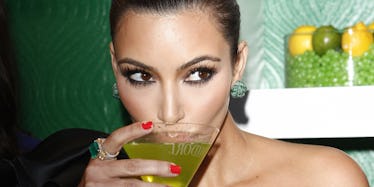 We're Bringing Back Old Kim K Tweets Until She Returns To Social Media
Shutterstock
Days are dark and not just because the presidential election has exposed America for the rotting whale carcass of a country it is.
Following the October 3 robbery at gunpoint in her Paris hotel room, Kim Kardashian West has refrained from posting on social media, likely for the sake of her sanity and her safety.
Until the reality TV superstar returns to the internet, fans will just have to indulge in her past offerings to the altar of social media. Truthfully, Kimmy has too many Twitter gems to compile neatly into one post, but we'll begin our series with two of her life's greatest passions: True Crime and Live-Streaming.
When Kim was obsessed with true crime.
Honestly? I agree Amanda and Raffaele didn't kill Meredith, and BIG TIME agree there needs to be a Natalee Holloway doc. The world must know what happened at Carlos'n Charlie's that fateful night.
Truly. If this series wasn't enough to earn the Ramsey family eternal quarantine adrift an ice barge far from the rest of humanity, though, nothing will. All Kim wants for Christmas of '96 is justice for JonBenét, but she's still waiting on that gift.
Had to Google this one, TBH. Kim's true crime obsession is, admittedly, next level. Ultimately, though, we all feel good about Ker being exonerated, right? I mean, justice isn't always swift, but, better late than never? I'm making this worse.
Moving on...
When Kim was obsessed with live-streaming.
Oh, cool! Excited to see Kim in real time!
Nice! Some behind-the-scenes footage!
Oh... Yeah! Yeah, always up for another live-stream!
Again? OK. Yeah, all right! One more time!
Uh, you could just tweet about it, maybe? Ah, who am I kidding. Let's see a quick stream!
I actually have some work I need to finish... but... I mean, yeah. Of course. Sure. Another live-stream.
I guess.
It's actually fine. You don't have to log back on tonig-- oh, you're here. Hey.
*deep sigh*
We should have appreciated those live-streams more when we had 'em, kids. Perhaps we should take Kim's time away to look inward and explore our dependence on her constant communication with us, the public.
OR we can just read her old tweets and cry.