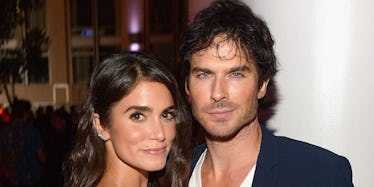 Nikki Reed Gave Birth To A Baby Girl With Ian Somerhalder And Her Name Is So Unique
Getty Images
Another mini celebrity has just entered the world! Nikki Reed and Ian Somerhalder have added a baby to their brood. E! News reports Reed and Somerhalder had a baby girl on July 25 named Bodhi Soleil Reed Somerhalder. Such a cute, unique name -- but what does Bodhi mean?
According to the website Nameberry, the name Bodhi is Sanskrit. It translates to "enlightenment" or "awakening." It relates to the Buddhist concept of nirvana. When you reach nirvana, you've reached the highest place of peace and happiness. The website also states, "The Bodhi tree is a large fig tree under which the founder of Buddhism received enlightenment." Her middle name, Soleil, may be one you've heard before. It's a french word that means "sun."
Reed and Somerhalder's daughter isn't the first celebrity offspring to bear the name Bodhi. Megan Fox gave birth to her son Bodhi Ransom Green in 2014.
The couple, who got married in April 2015, first announced their pregnancy on May 4 of this year with a pair of adorable Instagram photos. Somerhalder wrote,
To our friends, family, and rest of the world. In my 38 years on this earth I've never experienced anything more powerful and beautiful than this. I can't think of anything more exciting than this next chapter and we wanted you to hear this from us first. This has been the most special time of our lives and we wanted to keep it between the three of us for as long as possible so we could enjoy this time with each other and our little one who is growing so fast...because that's what they do, they grow so fast. Thank you for your kind energy. Love, Ian
Reed followed up with another post and the same photo, writing,
Hi Little One I know you, but only because I feel you. How is it possible to love someone so much already? All I know for sure is it's the strongest feeling I've ever felt. We've been sharing this body for quite some time, and we've already experienced so much together. We can't wait to meet you… Love Your parents
Congratulations to the couple on their baby girl. Now, let's start theorizing if she has those gorgeous blue eyes!