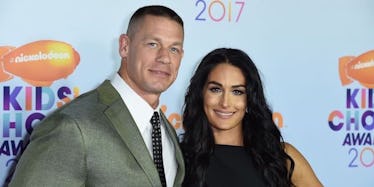 Nikki Bella Reveals Whether Or Not John Cena Wants To Become A Dad
REX/Shutterstock
John Cena has said before he would never get married, but that all changed a couple weeks ago when he surprised Nikki Bella with a sweet proposal in front of the whole world at WrestleMania.
Could that mean John might also change his mind about having kids?
Fans of Nikki and John's relationship already know very well how the couple feels about having children. In a clip from a 2014 episode of their reality show "Total Divas," John lays out the fact that he does not want to get married or have kids, whereas Nikki admits those are things she thinks about.
It was John's staunch opposition to marriage (after his first failed marriage to Elizabeth Huberdeau in 2009) that made his proposal to Nikki such a surprise. But it sounds like he isn't changing his mind when it comes to having kids.
Nikki Bella told People John still insists the couple remain childless. The reason being that Cena feels he couldn't be the father he would want to be to their kid given his demanding schedule as a wrestler, and now growing career as an actor.
She said,
[John] says it's selfish but he knows that with his schedule he couldn't be an incredible father and that's why he chooses not to have kids, and I actually respect that because that would be very hard to raise a kid on my own and the dad to always be gone and not see that kid.
Although Nikki said she respects his reasoning, the bride-to-be admitted she is still holding out hope John will eventually come around to having kids.
She said seeing how Cena interacts with the Make-A-Wish children who request to meet him — Cena's granted the most wishes of any other celebrity, visiting over 500 terminally ill children — makes her realize how great of a father he would be.
Maybe someday, Nikki! We're still hoping for little Cena-Bella babies, too.
Check out Nikki's full interview with People below.
Citations: Nikki Bella Is Still Hoping John Cena Will Change His Mind About Not Wanting Kids (People)