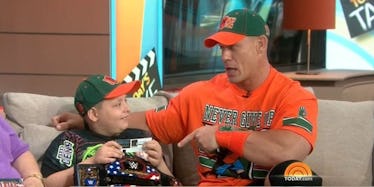 John Cena Grants His 500th Make-A-Wish To 8-Year-Old Boy With Cancer (Video)
John Cena's legacy as one of the greatest wrestlers of his time is dope, but the legacy he built outside of the ring as an inspiration to millions of kids everywhere is untouchable.
He's long been working with the Make-A-Wish Foundation to give sick children experiences they'll never forget.
One of those kids is 8-year-old Rocco Lanzer, who found out he had Leukemia last year. John Cena actually visited Rocco in the hospital not too long after his diagnosis, but for his 500th wish, Cena did something special for him again.
While it's been some time since they last met, Cena had a surprise for his old friend when he showed up to "The Today Show" to deck him out with new gear and tickets for SummerSlam this Sunday.
Rocco was nearly speechless during it all, but to see what kind of man John Cena is outside of the ring shows us clearly how he was able to bag Nikki Bella. Just a class act.