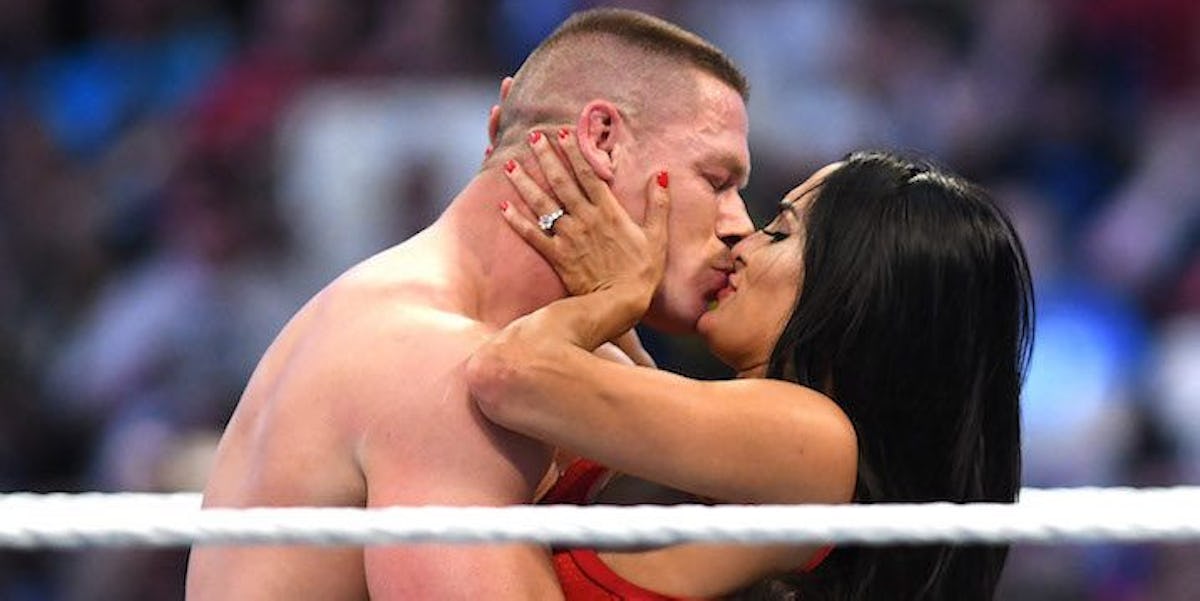 Nikki Bella Already Has Her Wedding Dress In Mind And It's A 2017 Top Trend
REX/Shutterstock
Nikki Bella and her fiancé, John Cena, had the perfect proposal, and now it sounds like they're about to have the perfect wedding to match.
Nikki outlined her ideas for the wedding dress she wants to walk down the aisle in, and it's definitely going to be showing off the wrestler's trademark cleavage.
"Who's Nikki Bella without cleavage?!" she joked to E! News, before going into more details about the trendy-sounding gown.
She said she feels drawn to the classic look of lace, but she definitely wants to avoid poofiness and keep the dress tight to her body to show off her curves.
She said,
I feel like being a bit curvy, I want something that's tight in the waist and shows off the booty. I definitely have to have some cleavage, you know? Some of me wants lace, I always go back and forth. I don't want anything poofy; I feel like I'm too old for that.
And it looks like Nikki's love of showing her assets is actually perfectly timed because one of the biggest trends this wedding season is deep, plunging necklines.
Brides magazine noted pretty much all the hot new wedding dresses being made for the spring of 2017 feature sexy, deep-cut necklines, so Nikki chose the perfect time to go dress shopping!
It sounds like she'll be buying more than just one special dress, too. Nikki also revealed she wants to pick out one dress to walk down the aisle in and another one to party the night away in at the reception.
Check out the full video of Nikki detailing her dream wedding dress below.
Aw, it sounds like this wedding is going to be amazing! And it's no wonder with how romantic John Cena's proposal to Nikki Bella was.
At the start of the week, Cena surprised his longtime girlfriend by getting down on one knee in the main ring at WresleMania and popping the question after the WWE supercouple won their team wrestling match.
We don't know the wedding date yet, but I'm hoping it's soon!
I'm also hoping they add some WWE touches to their ceremony, like maybe they can line the aisle with wrestling ring ropes, or they'll plant someone in the crowd to object and Cena can put him in a headlock. I don't know... just a few pitches.
Citations: Nikki Bella Reveals What She Wants for Her Wedding Dress: "I Definitely Have to Have Some Cleavage" (E! News)