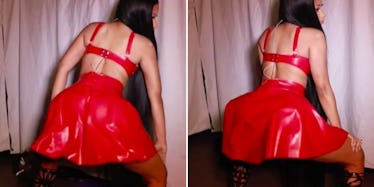 Nicki Minaj Twerked Her Booty Like Crazy After Passing Aretha Franklin's Record
Instagram
Needless to say, whenever I have something to celebrate, you can find me out on the dance floor, twerking my Irish butt off.
I didn't spend a fourth of my paycheck on Vodka martinis in one night? I'm twerking. I didn't die today? I'm twerking. Donald Trump didn't end the world this week*? I'm. Goddamn. Twerking.
And I never would have guessed it, but Nicki Minaj and I are so similar in this respect.
In honor of her surpassing Aretha Franklin's 73 career Billboard Hot 100 songs, Nicki took to Instagram to twerk her booty like there is no tomorrow (*fingers crossed there is a tomorrow).
Along with this video, Nicki wrote the following caption,
When u find out u just became the only woman in the history of billboard to have 76 Hot 100 billboard entries.
She also included 10 tongue emojis.
Ten out of 10 tongue emojis? Nicki must reeeeeally be celebrating.
On another note, I'd also like to give this GIF 10 out of 10 tongues.
While I'm sure Nicki meant no D-I-S-R-E-S-P-E-C-T to Aretha, it still has to sting for Aretha to be surpassed by Nicki, who is only 34 years old and shows no signs of slowing down.
Aww, cheer up, Aretha. (Also, is anyone else creeped out by the poster of Aretha in the background staring into your soul? No, just me? Cool.)
Seriously, by 2027, Nicki will probably have 100 Billboard Hot 100 songs. As a result, she'll probably gift us with an 87-minute twerking video.
I'm... I'm sorry, Nicki. That was presumptuous of me to think you'd record a twerking video roughly the same length as a feature film.
Nicki's latest songs "No Frauds," "Regret in Your Tears" and "Changed It" upped Nicki's Billboard Hot 100 song count to a whopping 76.
Congratulations, Nicki! I'll be celebrating your accomplishment this weekend by twerking until I drop.
Citations: NICKI MINAJ MY BOOTY JUST TOOK THE CROWN ... In Your Face Aretha! (TMZ)