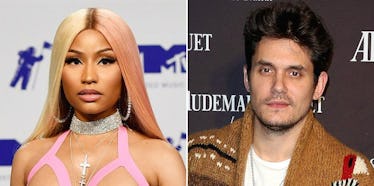 Nicki Minaj And John Mayer Got Super Flirty On Twitter And Fans Are Confused
Frazer Harrison/Frederick M. Brown/Getty Images
Happy Monday, everyone. I hope you enjoyed your weekend because John Mayer definitely did. Why? Well, that would be because Nicki Minaj and John Mayer are flirting on Twitter. I know, I don't understand it either. Did anyone see this coming? Because I most definitely did not. In fact, I don't think I've ever seen anything so random in my entire life. Nicki Minaj and John Mayer's flirty tweets are making the internet lose its mind, and not necessarily in a good way.
It all started on Friday, Sept. 8, when Mayer tweeted, "I spend an inordinate amount of time per day wondering if Nicki Minaj would like me or not." Same. And then, Queen Nicki herself quoted the tweet and said, "Would my body be your wonderland?" I mean, that's obviously an amazing thing to say back to the guy who wrote "Your Body Is A Wonderland," but a lot of fans don't want this flirting to continue. Personally, I am wondering if Minaj and Mayer ever met when he was dating Katy Perry, or if he just is a fan and wants to meet her. Either way, Mayer responded to Minaj's tweet, saying, "Please hold. Losing my sh*t. This isn't my reply yet." I doesn't look like he ever replied, likely because he was slayed by Nicki Minaj acknowledging his existence.
A lot of fans don't want this happening at all, seeing as John Mayer once called his penis a white supremacist. Yes, you read that correctly.
In a 2010 interview with Playboy, Mayer said some really, really weird and completely inappropriate things about black culture. In part of the interview, he compared his penis to white supremacy and David Duke — the former Grand Wizard of the KKK. There aren't enough hours in the day to break down everything that is wrong with that. Mayer ended up publicly apologizing following the criticism of the interview.
In the same quote from 2010, he also said really weird things about Scandal star Kerry Washington.
When Mayer was asked if black women "throw themselves" at him (also not enough time in the world to break down why this question shouldn't have been asked), Mayer responded with the "white supremacist" comment.
He said,
I don't think I open myself to it. My d*ck is sort of like a white supremacist. I've got a Benetton heart and a fuckin' David Duke c*ck. I'm going to start dating separately from my d*ck. ... I always thought Holly Robinson Peete was gorgeous. Every white dude loved Hilary from The Fresh Prince of Bel-Air. And Kerry Washington, she's super hot and she's also white-girl crazy. Kerry Washington would break your heart like a white girl. Just all of a sudden she'd be like, 'Yeah, I sucked his d*ck. Whatever.'
Yeah... I really have no words for this. Nicki Minaj should stay away, and it looks like she has, seeing as no other tweets came around after Mayer's "This isn't my reply yet." Then again, they might have talked outside of Twitter, but we'll probably never know. Here's the thing though, guys, I don't think Minaj was actually flirting with him.
To me, this looks like she saw Mayer was tweeting about her, she responded with an excellent pun referencing his music, and then she went about her business as usual. Sure, the tweets were flirty in nature, but I doubt it goes any deeper than that. But I guess only time will tell if this thing ever becomes a thing... In other news, this whole exchange has proved Nicki Minaj makes excellent puns. What a queen she is. We do not deserve her, not one bit. (Nicki, please ignore John Mayer for the rest of time.)