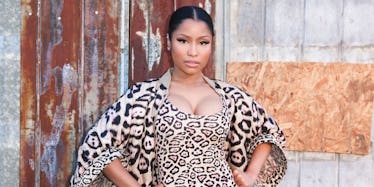 Nicki Minaj Rapped About Harambe And The Internet Nearly Exploded
REX/Shutterstock
When Nicki Minaj speaks (or raps, rather), we all listen.
Not only is she going to crush the mic, but she's also probably going to say something that you just can't get enough of.
That's exactly what happened when the 33-year-old star released her latest track titled "The Pinkprint Freestyle."
Immediately following its release, the Internet just couldn't get enough of it -- and for a GOOD reason, too -- she named-dropped Harambe.
It seems like the countless memes that have circulated around the web honoring the Cincinnati Zoo gorilla have finally evolved into rap song references.
Well, that took long enough!
Twitter users just couldn't get over Nicki Minaj's mention of Harambe on her "Pinkprint Freestyle."
Nicki Minaj's mention of Harambe comes EXACTLY at the 1-minute mark of the song as if she had this all planned out...
As expected, the Internet went BERSERK.
However, there were mixed feelings on the Harambe shoutout.
Some say it was uncalled for...
...while others say it made the entire song.
I might have to agree. After all, this is the late, great Harambe we're talking about!
His name will be remembered for ages to come. #RIPHarambe
May you live on forever through Internet memes and controversial Nicki Minaj verses.
It seems like Nicki's been on a roll with her rap verses lately.
Fans were blown away earlier this month when they found out what she was actually rapping about on Ariana Grande's "Side to Side."
Ariana Grande spoke to MTV News regarding the song's sexual meaning, saying,
That whole song is about riding leading to soreness. 'Ride d*ck bicycle' is the lyric, indeed.
Further supporting her claim is Nicki's raunchy lyrics, which read,
This the new style with the fresh type of flow / Wrist icicle, ride d*ck bicycle / Come true yo, get you this type of blow / If you wanna Minaj, I got a tricycle.
Well, damn...
Uh, keep speaking your mind and killing the game, Nicki. It suits you well!
RIP, Harambe.
Citations: Nicki Minaj Releases 'The Pinkprint Freestyle,' Name-Checks Harambe (Huffington Post)