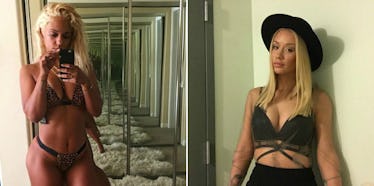 Here's The Hot Iggy Azalea Lookalike Nick Young Was Spotted Kissing
Instagram
Well, well, well, it looks like Iggy Azalea isn't the only one who is over her former relationship with Lakers guard Nick Young.
Early Thursday morning, Iggy Azalea took to Instagram to post a picture of the seven --  yes, seven -- diamond rings her new boo, French Montana, purchased for her.
Now, it's Nick Young's turn to flaunt it with his new romantic interest.
Wednesday night, Nick Young was filmed by TMZ leaving The Nice Guy in West Hollywood with the very lovely Paloma Ford.
As you can see in the video above, Young was stopped by a TMZ cameraman who asked the 31-year-old to comment on Knicks guard Derrick Rose throwing him under the bus in a recent rant, as well as the fact the Los Angeles Lakers reportedly just re-signed Metta World Peace to a contract.
Young played it cool and gave the camera some time, but oddly enough, the dude from TMZ didn't ask Nick Young about the hot woman he was getting into the car with.
That sexy Iggy Azalea lookalike is Paloma Ford, an accomplished R&B vocalist in her own right.
OK, Nick Young, I see you...
The 30-year-old Ford is from Long Beach, California, and it looks like she's making Nick Young forget all about Iggy Azalea.
Yeah, I mean, at first, I was feeling bad for Nick Young, but after seeing him kissing the very sexy Paloma Ford, I'm wondering if Iggy is going to be OK.
Like, DAMNNNNNNNN!
After Nick Young got into his whip with Paloma Ford, the pair paused, looked at each other and locked lips with a pretty epic kiss for the cameras.
You think Nick Young wanted to make sure the cameras got a good shot so Iggy Azalea and French Montana could see what was up all the way from their yacht in Cabo or wherever they might've jetted off to for the weekend?
Something tells me this won't be the last we hear from Iggy Azalea, French Montana, Paloma Ford and Nick Young.
Citations: Nick Young And Paloma Ford Put On Show For Paparazzi (The Big Lead)