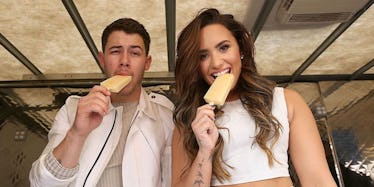 Nick Jonas Wrote The Sweetest Message For Demi Lovato's Birthday & Fans Are Obsessed
Jesse Grant/Getty Images
it was Demi Lovato's birthday on Aug. 20, 2017, and she's getting literally the sweetest messages from all over the globe. She is Demi Lovato, after all. What do you expect? The sweetest message came from pop star and BFF, Nick Jonas. Nick Jonas' Instagram for Demi Lovato's birthday is the perfect tribute to the "Sorry Not Sorry" singer. Now we know just how close the two actually are. The longtime pals have been sharing the spotlight since their television debut on Camp Rock. Remember that amazing Disney Channel movie from 2008? It was the best. Lovato and Jonas also teamed up for their "Future Now" tour which was also amazing. So to reign in Lovato's 25th birthday, Jonas posted a throwback pic and a recent photo of the two. This is intense nostalgia, y'all.  
Jonas wrote on his Instagram photo,
Happy birthday @ddlovato we've seen a lot of life together already.. much more to come as well. I admire you so much and am so grateful to have you in my life. Wish I could be with you today to celebrate! I know you won't ever let me live it down that you're a month older than me.
Lovato responded to her birthday love with this heartfelt message.
Demi and Nick, please work together soon. Your collaborations are epic and your voices go together like butter on a frying pan (that's actually a good thing). Also, they became close friends from the freakin' Disney Channel, and nothing can be cuter than that. So, let's all wish Demi Lovato a happy 25th birthday! She's rockin' the whole career thing, and Nick Jonas sent her a personal birthday message on Instagram. I'd say she's doing pretty well for herself. Also, have you seen Demi's cool lion tat? She's a total badass. Invite me to your birthday party. OK? Thanks!