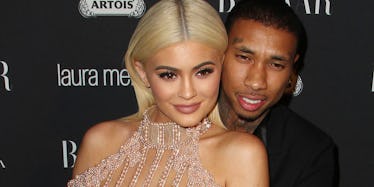 New Pics Of Tyga Grabbing Kylie Jenner's Butt Are Making People Think It's Fake
REX/ Shutterstock
Kylie, sweetheart, the jig is up: YOUR BUTT HAS TO BE FAKE.
Seriously, the people of the internet are under the impression your butt is not 100 percent real -- and it's becoming harder and harder to convince us otherwise.
Earlier today, photos were released of the makeup guru and her bae, Tyga, lounging by a pool at Joe Francis' estate in Punta Mita, Mexico.
Of course, Kylie's butt is stealing the spotlight once again...
One of the photos features Tyga with a firm grip on each cheek (not the ones on her face), and the hand-to-butt proportion is convincing people she's gotten some implants.
In the photo that leaves just about nothing to the imagination, Kylie is wearing a black thong bathing suit bottom, and Tyga's tattooed arms can be seen wrapped around her with a cheek in each hand.
Kylie, on the other hand, is staring peacefully into the distance.
Since the photos were shared on TMZ, Twitter has been out of control with folks who believe the youngest Jenner's bottom is fake AF.
I have to admit... they make a few good points.
If the people of Twitter are incorrect in their assumptions, I'd love to know what Kylie's secret is for sculpting such a beautifully shaped *natural* butt.
I guess we'll never know, though.
In another photo captured during the duo's vacay, Kylie's almost-too-good-to-be-true bod is seen sitting next to her boyfriend who's bathing in the sun next to her.
Yup, you guessed it: Her butt is pretty damn bare. AND HUGE.
Whether her butt is fake or not, she definitely has the internet obsessing over it.
In fact, whether Kylie's relaxing by the pool with her BFFs showing off her unreal curves or showing off her almost-naked bod in a shower, the internet will continue to obsess over it.
You (and your butt) win, Kylie.
Citations: KYLIE JENNER HER ASS IS ON VACAY ... Tyga's Hands Work OT (TMZ)