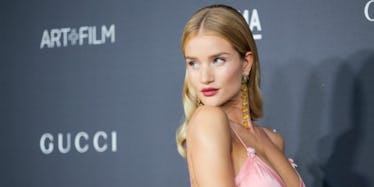 Model Rosie Huntington-Whiteley Reveals She's Pregnant In Bikini Baby Bump Pic
REX/Shutterstock
OK, IT IS OFFICIALLY BABY SEASON.
First, Beyoncé announced she was expecting twins with husband Jay Z on Instagram.
Then, George Clooney and his wife Amal announced they were also having twins.
Now, model Rosie Huntington-Whiteley and Jason Statham also shared they were going to be parents on Instagram.
The photo, which was taken by action star Jason Statham himself, had the following caption:
Very happy to share that Jason and I are expecting!! Lots of love Rosie.
And, honestly? Ya'll need to chill with this because my mom has been calling me nonstop asking when she can expect grandchildren.
Statham, 49, and Huntington-Whiteley, 29, have been dating for almost six years.
Just at the 2016 Golden Globes, they announced they were engaged after showcasing a diamond ring on her left ring finger.
The former Victoria's Secret Angel has mentioned in the past that having children has been on her mind. In May 2015, she told Sunday Express,
Having a family is something I think about for sure.
When asked if she would raise her children in America or England, the model/actress responded,
Whether I'd live here in America or in England, it's not always as simple as that. I have no idea what will happen, but it'll be interesting to find out, right? And nothing will be perfect, I'm sure.
Um, one thing will be perfect: that baby. Seriously, look at the genes this baby is going to be working with?
The only thing it will have to worry about is if it's a boy and he inherits male pattern baldness -- which will make him sexier???
Huntington-Whiteley said,
I always see myself working, but definitely being a mom will be a big part of me. I think there is naturally a point where you think, 'I don't care about myself as number one any more.' I want to care about other things.
Based on that alone, we're sure she's going to be a great mother.
Citations: Rosie Huntington-Whiteley and Jason Statham Expecting First Child (People)