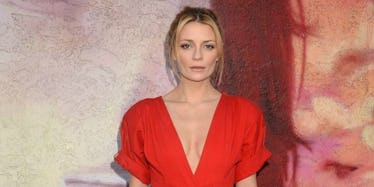 911 Call Of Mischa Barton's Breakdown Reveals She Threatened To Kill Herself
REX/Shutterstock
On January 26, Mischa Barton was hospitalized after neighbors called 911. The 31-year-old actress was reportedly screaming outside of her West Hollywood home.
As you can see in the video below, Barton, who later claimed she was drugged with GHB while out celebrating her birthday with friends, was caught on tape yelling incoherently and scaring her neighbors.
In the video above, Barton incoherently screamed,
On planet Earth… Uh, bye. Like, anybody? Oh, my God, it's over! I feel it and it's angry! Oh, my God! My mother, I always knew it. You fucking witch! I knew it! What a witch! I was right! I was right! I was right! We're dying, I knew it. I knew it, and I didn't want anybody to know!
Uh, what?
Barton continued,
Oh, my God, it's terrifying! You're angry. Oh, I feel you. Oh, I'll be your conduit. Yeah! Fuck yeah! Fuck yeah, Ziggy Stardust. I always knew it. I always fucking knew it.
Now, two of the 911 calls Barton's neighbors made during her episode have reportedly been released, and if you listen to the audio, it sounds like Mischa Barton's neighbor thought the actress was on the verge of committing suicide.
As you can hear in the clip above, the woman on the 911 audio said,
My dad's downstairs neighbor is hysterically crying in the backyard and says she's going to kill herself.
As you can also hear in the TMZ video above, despite Barton's claim she was drugged with GHB, one of her neighbors claimed Mischa Barton does this sort of thing every couple of months.
Wow.
Barton released the following statement after she was released from the hospital.
On the evening of the 25th, I went out with a group of friends to celebrate my birthday. While having drinks, I realized that something was not right as my behavior was becoming erratic and continued to intensify over the next several hours. I voluntarily went to get professional help, and I was informed by their staff that I had been given GHB. After an overnight stay, I am home and doing well. I would like to extend a big thanks of gratitude to the professionals at Cedars-Sinai for their great care and professionalism. This is a lesson to all young women out there, be aware of your surroundings.
I'm really not sure what to make of all this.
Citations: MISCHA BARTON 911 Call SHE'S THREATENING TO KILL HERSELF (TMZ)