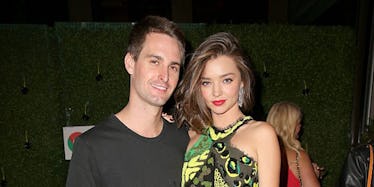 Miranda Kerr Ties The Knot With Snapchat CEO Evan Spiegel In LA
Imeh Akpanudosen
Miranda Kerr and Snapchat CEO Evan Spiegel have tied the knot in what was probably a picture-perfect ceremony (only fitting for the mogul of a photo platform and an Australian model).
It was a low-key  yet "lavish" affair — with a small 40-person guest list — that had been described as "very intimate," according to People.
Last summer, Kerr posted an adorable bitmoji picture online (naturally) of the couple's engagement, so we of course we have been keeping an eye on these two ever since.
Things remained low-key, yet a quote from Kerr earlier this year got everyone talking.
According to her interview with The Sunday Times on February 6, there were a few ground rules she needed to establish before engaging in conversation with the reporter.
The first order of business? The off-limits topics, and there were quite a few: her collaboration with the Los Angeles jean brand, Mother, her controversial Victoria's Secret contract, her 6-year-old son with Orlando Bloom, and definitely her upcoming nuptials with the 26-year-old Silicon Valley billionaire.
So what did she talk about?
Sex... or lack thereof.
When the dirty dirty came up in conversation during the interview, Kerr responded,
Not until after we get married. [Spiegel] is very traditional. We can't … I mean we're just … waiting.
After the reporter apologized for Spiegel's not having sex with her, the model giggled and said, "I know!"
Work was a no-no topic, but business in the bedroom did manage to make its way into the interview.
So now that the  two are officially hitched, I wonder what reporters are going to ask Miranda about now!
I am just curious when another super-cute bitmoji in wedding garb is going to pop up on social media — I'm pumped for that.
And, since I got a little sidetracked here, congrats to Miranda and Evan!
Citations: Miranda Kerr Marries Snapchat CEO Evan Spiegel in 'Lavish and Classy' L.A. Ceremony (People)