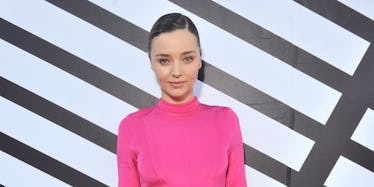 Man Who Hopped Fence At Miranda Kerr's Home Charged With Attempted Murder
REX/Shutterstock
Shaun Haywood, a homeless man who hopped the fence of Miranda Kerr's Malibu mansion and attacked a security guard, has been charged with attempted murder, assault with a deadly weapon and mayhem.
The details of the attack are quite graphic. So, uh, heads up on that one.
Seriously, turn back now if you're little bit nervy like I am. Then again, I had to deal with it, so can you. Suck it up.
Haywood, after hopping the fence to the model's home, was approached by the security guard -- AND THEN HE STABBED THE GUARD IN THE EYE.
Then, the guard shot the intruder multiple times, including in his head.
Thankfully, Miranda Kerr, who is newly engaged to Snapchat CEO Evan Spiegel and will soon move into their new home in Brentwood, was not at home during this time.
She was in Paris for Fashion Week.
Both the security guard and the homeless man were airlifted to a hospital and survived.
If Haywood is convicted, he could face a life in prison.
This occurred just a little over a week after Kim Kardashian was robbed at gunpoint in Paris at her hotel room. The reality TV star had millions of dollars worth of jewelry stolen while she feared for her life.
Miranda Kerr has yet to make a public statement of the incident, while Kardashian hasn't returned to social media.
In an interview with "60 Minutes," before the robbery, Kardashian said of the Internet and fame,
There are pitfalls. Lack of privacy, loss of privacy. That's not for everyone. For me, I can handle it.
Hopefully, justice will be served in both cases, with Haywood serving the time he deserves and with Kardashian's attackers being identified and placed in custody.
We are wishing Miranda Kerr's security guard a speedy recovery as he deals with his injuries.
Citations: Miranda Kerr Home Intruder Charged With Attempted Murder (US Magazine)