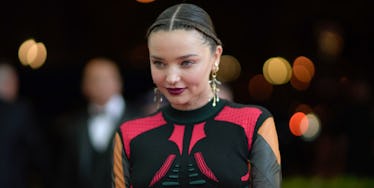 Miranda Kerr's Security Guard Stabbed In The Eye, Intruder Shot In The Head
REX/Shutterstock
WHY DO PEOPLE KEEP INVADING THE SAFE SPACES OF CELEBRITIES?
Please, leave them alone. It feels like breaking into celebs' homes and creepy clowns being literally everywhere are the two worst trends of 2016.
But I digress.
On Friday morning, Miranda Kerr's house erupted in gunfire after an altercation that resulted in two people needed hospitalization.
After an intruder scaled Miranda's fence and hopped over, a security guard confronted the man.
I know what you're thinking. First, Kim Kardashian's Paris hotel room is broken into, and she's robbed of $10 million worth of jewels, and now Miranda Kerr has an intruder on the property of her Malibu home?
But this brings me to the most nauseating part of this whole story...
If you're as squeamish whenever you hear anything awful happening to a person's eyeball like I am, I request that you walk away from your laptop immediately. For safe measure, you may want to toss it out a nearby window.
OK, you've officially been warned, you brave soul you.
The intruder (*takes deep breath*) stabbed the security guard in the eye. I know, I know, I'm sorry, but I had to tell you!
Ugh, I just got a headache thinking about the prospect of getting stabbed in my friggin' eyeball. Sorry, but sharp things being near eyeballs is my worst fear.
In response to the intruder's attack, the security guard pulled out his weapon and shot the intruder multiple times.
At least one of the bullets hit the intruder in the head.
Thankfully, both were airlifted to a hospital and are expected to survive the event.
What's even more fortuitous is that Miranda was not at home during this violent event. Can you imagine how terrifying it would be if she was?
No, I don't even want to think about it. Not my Miranda...
So, if there are any people out there considering invading a celebrity's home, let this be a cautionary tale.
Citations: MIRANDA KERR 1 SHOT, 1 STABBED AT MALIBU MANSION (TMZ)