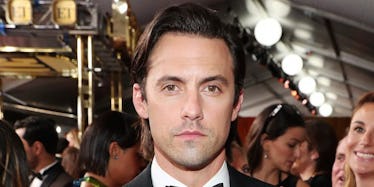 Milo Ventimiglia Brought His Girlfriend To The Emmys And This Is Us... Crying
Rich Polk/Getty Images
Is everyone sitting down? If you're not, I'm going to need you to find a safe place to sit right now, 'cause you're about to be shook to your core. Milo Ventimiglia was nominated for an Emmy for his performance on This Is Us, so he obviously was at the Emmys last night with the rest of the cast. But guys... he also brought his girlfriend. *The entire internet breaks down into uncontrollable sobs*. I KNOW, IT HURTS ME TOO, BUT IT'S TRUE. Milo Ventimiglia is no longer single, and his girlfriend, Kelly Egarian, was his date to the Emmys last night. (So, you're saying he has a thing for Kellys...?) But who is Kelly Egarian? What we know is that she isn't an actress, rather a 31-year-old marketing coordinator who just happens to be dating the guy even Rory Gilmore couldn't tie down.
Ventimiglia and Egarian didn't pose for any pictures together (he walked the red carpet alone), but Egarian joined him inside and sat with Ventimiglia for the entirety of the show. Although they haven't publicly confirmed their relationship, they had dinner at the afterparty together and made a date night out of Emmy night. According to people who saw the couple at the post-Emmys dinner at the Governors Ball, Ventimiglia was making sure Egarian was part of the conversation every time someone new would come up to their table to chat. They were also seen walking through the Governors Ball crowd hand-in-hand.
Even though he walked the Emmys Red Carpet alone, Milo Ventimiglia was one of the best-dressed men at the Emmys last night.
I know what you're thinking, "But what about Milo Ventimiglia and Mandy Moore?! Aren't they meant to be?!" I mean, their characters on This Is Us definitely are, but they're just good friends IRL. In fact, Mandy Moore just recently got engaged to her boyfriend! Yup, Dawes frontman Taylor Goldsmith and Moore are officially engaged after two years of dating, and they reportedly had dinner with Ventimiglia and Egarian at the Emmys afterparty. You know, like good friends do.
I hate to break it to you, but Ventimiglia has openly said that he won't date his co-stars anymore. Back when he was on NBC's Heroes, Ventimiglia dated his co-star Hayden Panettiere for a bit. In an interview with Mr. Porter, he said he would never date a co-star again because his relationship was in the spotlight way too much for his liking. (He also dated Alexis Bledel for a couple of years.) When asked what he learned from dating a co-star, he said, "Never do it again." OK! FINE! GREAT! He continued,
There are things that happen to you in your life that shape who you are. Everything I've been through from jobs to friendships to partnerships, everything has built me to who I am. You learn from it. You learn a better way of doing things. It wasn't until my mid to late twenties that the job wears on you, relationships wear on you.
So that means the internet's favorite couple to ship, Milo and Mandy, will never be a thing. *Stands up, flips table, feels bad about flipping table, puts it back where it was, crawls under it, sobs in the fetal position while playing This Is Us reruns*.
Speaking of This Is Us, the entire cast was so visibly happy and proud when Sterling K. Brown won the Emmy for Outstanding Lead Actor in a Drama Series. Ventimiglia was nominated in the same category, but he cheered when Brown won and was the first to stand and congratulate him.
MY HEART. The cast shared their love for Brown, whose Emmys speech was criminally cut short, on Twitter. Mandy Moore tweeted, "What a night!! Man, were all so proud of @SterlingKBrown. Wish we could have heard his whole speech!!"
In case you missed it, Brown's speech was cut short and the audience started booing the Emmys producers for playing music even though Brown was obviously not done with his speech. The man just won the highest honor a TV actor can get! Can't we bend the time constraints a little bit?! But don't worry, Brown got to finish his speech backstage in the press room, and there are videos.
Emmys, listen, Imma let you finish, but STERLING K. BROWN GIVES THE BEST SPEECHES OF ALL TIME!! Just ask Randall Pearson.