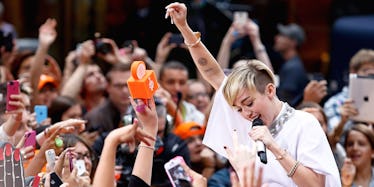 Miley Cyrus On Her Sexuality: 'My First Relationship Was With A Chick'
Shutterstock
There has to be an alternate reality in which each of us gets to experience a brief moment inside the glorious mind of head Happy Hippie herself, Miley Cyrus.
The newest coach of "The Voice" participated in Variety's Power of Women issue as one of the publication's cover stars, detailing the steps of her self-discovery.
Miley, who admitted she "grew up in a very religious Southern family," shared,
My whole life, I didn't understand my own gender and my own sexuality. I always hated the word 'bisexual,' because that's even putting me in a box. I don't ever think about someone being a boy or someone being a girl… Also, my nipple pasties and shit never felt sexualized to me. My eyes started opening in the fifth or sixth grade. My first relationship in my life was with a chick.
Once the 23-year-old began connecting to other members of the LGBTQ community whose experiences mirrored her own, she spent less time worried about which labels suited her.
She explained,
I went to the LGBTQ center here in LA, and I started hearing these stories. I saw one human in particular who didn't identify as male or female. Looking at them, they were both: beautiful and sexy and tough but vulnerable and feminine but masculine. And I related to that person more than I related to anyone in my life.
Getting acquainted with the concept of gender neutrality and how it related to her own identity also informed Miley's perspective on her own pansexuality.
She added,
Even though I may seem very different, people may not see me as neutral as I feel. But I feel very neutral. I think that was the first gender-neutral person I'd ever met. Once I understood my gender more, which was unassigned, then I understood my sexuality more. I was like, 'Oh -- that's why I don't feel straight and I don't feel gay. It's because I'm not.'
Throughout her self-discovery, Miley claimed she always knew she'd reach a place of peace and happiness.
The 2015 Grammy nominee told the magazine,
The universe has always given me the power to know I'll be OK… Even at that time, when my parents didn't understand, I just felt that one day they are going to understand.
Miley is blissfully engaged to longtime love Liam Hemsworth, who is lucky to have a kind, open, loving partner to stand beside through life's more difficult moments.
The "Crisis in Six Scenes" actress said,
I live a public life. Until I know someone and I know their story, I never really judge anyone… My family has been through hard things, and I think everyone's suffering is different.
Ugh, Miley. Just adopt me already.
Citations: Miley Cyrus Talks Coming Out as Pansexual: "I Didn't Understand My Own Gender and My Own Sexuality" (E! News)