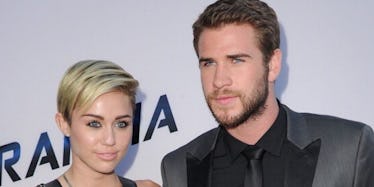 Miley Cyrus' Parents' Advice Is Perfect For Her Marriage To Liam Hemsworth
Steve Granitz/Getty Images
Our girl Miley Cyrus is going to the chapel and she's going to get married to our boy Liam Hemsworth. It's shocking to some that they're back together, yet so adorable. Cyrus and Hemsworth may have had a wrecking ball start, but that won't stop the pair from tying the knot. In a recent interview in Cosmopolitan's September 2017 issue, the super star told fans the marriage advice her parents, Billy Ray Cyrus and Tish Cyrus, gave her and it's absolutely precious and pretty epic. Who could give better marriage advice to Miley Cyrus than her loving parents? Nobody. That's who.
The pop singer said one thing her parents have taught her about marriage is, "Nothing and no one stays the same. Grow, evolve, change with each other and celebrate your love's journey!" That's solid advice. Can I have her parents?
For Miley, like her parents, relationships haven't always been smooth sailing. Miley's dad, Billy Ray, filed for divorce from her mother, Tish in 2010. A year later, he announced the divorce was called off on The View. In June 2013, Billy Ray and Tish both filed for divorce. THEN, the tumultuous duo announced they attended couples therapy and worked through their issues. Phew. They've been through a lot. As Miley says, it's always gonna be an uphill battle.
Miley and Liam began dating in 2009 after meeting on the set of the film The Last Song. The two got engaged in 2012, but sadly split one year later. Then, to our excitement, in January 2016 sources leaked that the famous couple rekindled their love and got re-engaged. Hooray!
Miley and Liam's relationship may have had a bumpy start, but things certainly seem to be going significantly better! She even dedicated her new hit single "Malibu" to Hemsworth, and we all know that means true love.