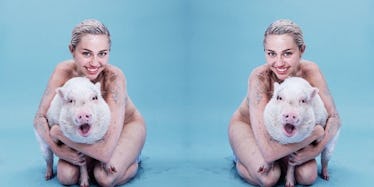 There's An Extremely Good Reason Miley Cyrus Posed Naked With A Pig
Kim Kardashian almost broke the Internet with her Paper magazine cover.
Now, Miley Cyrus has taken her turn to grace the cover of the magazine.
Though, unlike Kim, Miley is doing it for a good cause.
Miley is on the cover in the nude, hugging a pig -- but there's a reason for that.
She wants to use the publicity to bring attention to teen homelessness in America.
Specifically, Miley wants to raise awareness about her Happy Hippie Foundation that helps youths in need.
Previously, she told the Associated Press,
When you have all eyes on you, what are you saying? And that's what I had to ask myself a lot. It's like, I know you're going to look at me more if my breasts are out, so look at me. And then I'm going to tell you about my foundation for an hour and totally hustle you.
Clearly, Miley knows how to play the game. As such, she kept the focus on social issues throughout most of her Paper magazine interview.
She said,
I can't drive by in my f*cking Porsche and not f*cking do something. I see it all day: people in their Bentleys and their Rolls and their Ubers, driving past these vets who have fought for our country, or these young women who have been raped. I was doing a show two nights ago, and I was wearing butterfly nipple pasties and butterfly wings. I'm standing there with my tits out, dressed like a butterfly. How the f*ck is that fair? How am I so lucky?
Miley also made sure to clue us all in on her life philosophy.
She told the magazine,
As long as you're not hurting anyone, your choices are your choices.
So, long story short: Miley is saving the world, and she looks good doing it.
Citations: Free to Be Miley (Paper )