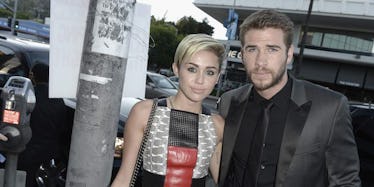 Miley Cyrus' Insta Comment To Liam Hemsworth Officially Makes Her Most Relatable GF
Getty Images
Miley Cyrus just became the most relatable girlfriend, ever. When her fiancé, Liam Hemsworth, posted an interesting selfie of the two of them, Cyrus stepped in with her own opinion.
Her comment was well-received and people have been praising her for being real AF.
The seemingly sweet, black-and-white photo has the caption, "My little angel and I." Nice, right?
Cyrus then commented, "Why. This. Picture lol."
I died. Like, I get it. Cyrus is super cute and looks amazing, literally always. However, the choice of photo is a bit odd. I think Hemsworth posted it because he thinks she looks adorable. Then again, I have no comprehension of the male mind.
Cyrus got so much praise about her comment, she posted the picture on her own Instagram with the caption, "why." I can just imagine the two of them going back and forth about the picture.
He probably doesn't understand why she doesn't like it. She probably doesn't understand why he doesn't understand anything. I'm totally on Miley's side for this made up argument.
Here are some other photos that, I think, would be Cyrus-approved.
This Oldie But Goodie
This photo is old. Like pre-Bangerz, old. It is a nice reminder of how long Hemsworth and Cyrus have been together. Even though the two broke up for a bit in the middle, I'm glad they found their way back to each other.
This Sweet Shot
This is a lovely photo of Cyrus and Hemsworth. Miley looks gorg and so natural. Come on, Liam, use your head.
A Nice PDA Shot
I'm not saying it needed to be a glammed up photo — Cyrus looks amazing without a speck of makeup on her.
Maybe A Throwback?
Liam, I would appreciate some cool throwbacks from the Cyrus scrapbook. If you're going to post awk pictures, give me something I can work with.
Honestly, Liam Hemsworth looks perfect on the outside, but he's still... a guy. No offense to the boyfriends out there, but what is your photo-choosing process? Why don't you know what we will like?
Welp, what can I say? Can't live with them, can't live without them. Right, Miley?