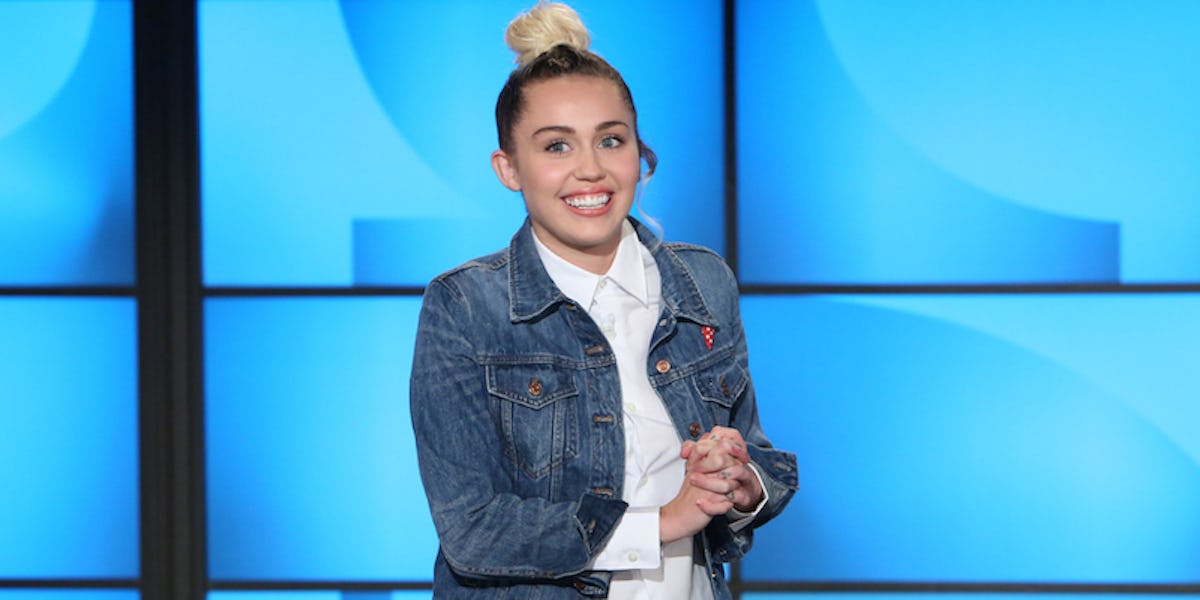 Miley Cyrus Tells Audience She 'Kissed A Girl' Right Before Hosting 'Ellen'
Daily Daily
And just when we thought Miley Cyrus seemed to have calmed down...  Earlier this year, her "The Last Song" co-star and ex-fiancé, Liam Hemsworth, basically confirmed they were back together, and everything seemed OK in the world again.
But this week, Ellen wasn't feeling well enough to host her show with the same name and asked none other than the woman with the same haircut to fill in for her.
Although Miley was looking very Miley circa 2012 in her signature top knot, she told the audience she made up for it by dressing like Ellen, smelling like Ellen and even kissing a girl before coming on the show.
... BUT WHAT ABOUT LIAM DOE???
Nah, it's probably nothing, but it is interesting to see this open side of Miley come back out. Especially since she's actually been pretty low-key lately.
... Or not.
This revelation isn't that surprising, though. Last year, ELLE UK did an article about Miley and her sexuality.
At the time, she said,
I'm very open about it – I'm pansexual... I'm 22, I'm going on dates, but I change my style every two weeks, let alone who I'm with.
What does that mean? Pansexuality is defined by Google as "not limited in sexual choice with regard to biological sex, gender or gender identity."
In June of that same year, the US made same-sex marriage legal nationwide. The fact that Miley came out as pansexual was a step in helping people everywhere open up to the LGBTQ+ community.
In the same article, which was post-breakup with Liam, she admitted to hanging out with Stella Maxwell, a Victoria's Secret model. Because of course Miley Cyrus would be dating a Victoria's Secret model.
So maybe Miley did or didn't kiss a girl. Who cares? She's just being Miley.
Citations: Entertainment Tonight