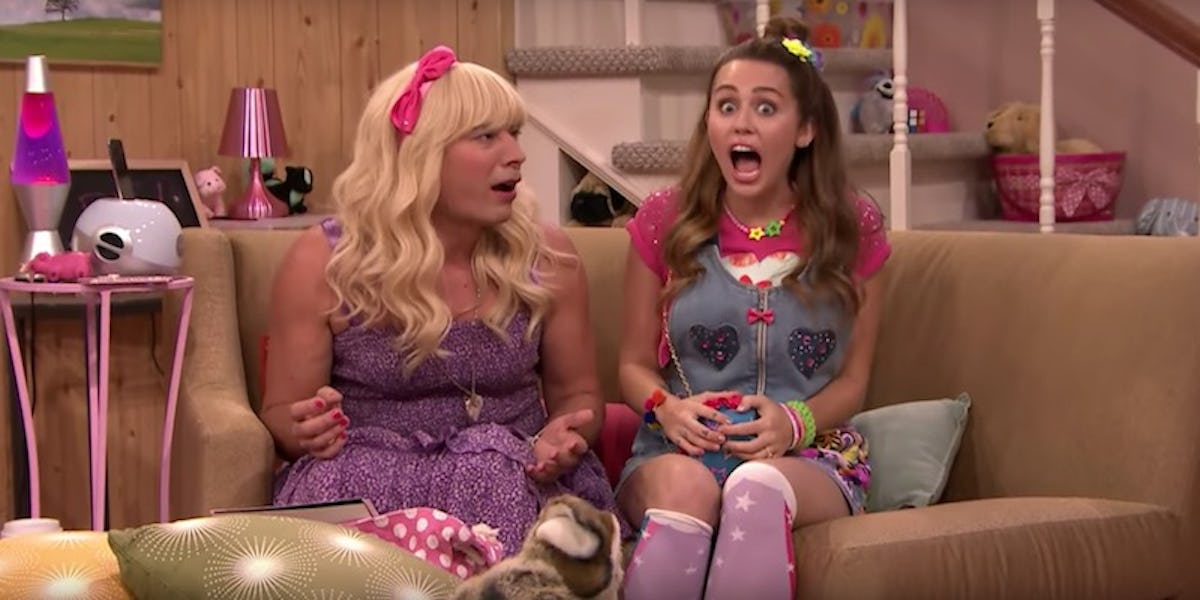 Miley Cyrus Basically Turned Into Hannah Montana Again On 'The Tonight Show'
YouTube
It's been quite some time since we last saw Miley Cyrus as her famous alter-ego Hannah Montana.
As a matter of fact, the last time we saw Hannah Montana was in the fourth and final season of Cyrus' hit show on the Disney channel.
Since then, we've been getting nothing but the tongue-obsessed, blonde-haired Miley Cyrus. No, I'm not complaining, but I will admit -- the world misses Hannah Montana.
Thankfully, Jimmy Fallon exists, and the late night host decided to invite 23-year-old Miley on "The Tonight Show" with zero other guests scheduled.
If you know anything about late night talk shows, you know there are typically two to three guest appearances, followed by a live musical performance.
For this particular episode of "The Tonight Show," Jimmy Fallon invited Miley Cyrus to take a break from "The Voice" to channel her inner Hannah Montana during a segment of "Ew!"
The fan-favorite segment transformed Fallon into "Sara with no H because Hs are eww!" and Cyrus as "Becky," one of Sara's BFFs.
In the clip above, the two just keep saying "ew" over and over again until you can't help but burst out laughing uncontrollably. That's what happened to me. I'm still trembling from laughter.
After saying "ew" countless, times, Sara and Becky engage in an epic dance party. When I say epic, I'm mean EPIC!
Sara then nicknames Becky as "Becky with the good moves." I'll admit, the dance party is the exact moment Miley Cyrus' inner Hannah Montana shined through.
If you've been missing your favorite schoolgirl/globally known pop star, you'll find relief in this hilarious sketch.
The video managed to rack up over 270,000 views in under 24 hours.
It's safe to say fans are looking to get their Hannah Montana fix in any way imaginable -- even if it means pretending "Becky with the good moves" is actually Hannah Montana with the angelic voice.
Citations: Miley Cyrus Taps Her Inner Hannah Montana for 'Eww!' Sketch With Jimmy Fallon (Billboard)