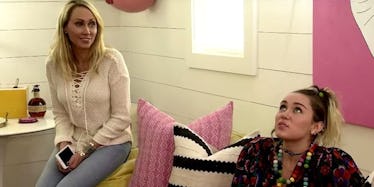 Miley Cyrus' Family Is Getting Their Own TV Show And The Trailer Is Perfection
Bravo
Two of the less famous members of Miley Cyrus' immediate family are about to get marginally more famous soon.
Yep, Miley's mom, Tish Cyrus, and her sister Brandi Cyrus have a new reality show hitting Bravo this spring.
See? Now you know their names. This show has already increased their fame exponentially.
The series, which will premiere on Bravo on May 25, is titled "Cyrus vs. Cyrus: Design and Conquer."
The basic idea is the mother and daughter will take on interior design clients, and compete against each other to see whose design the client likes best.
Despite a brief cameo from Miley, it doesn't seem like the 24-year-old singer will be very involved at all.
If you think that sounds super boring, then I suggest you watch the trailer that dropped Monday.
See? Not boring at all! I mean you've got Tish Cyrus.
And you've got Brandi Cyrus.
Together they like, smash walls and stuff!
*Refrains from making "Wrecking Ball" joke.*
And...roll carpets out!
You know, exciting interior design stuff.
And don't forget! They're both related to Miley Cyrus! That's interesting, right?
Miley even shows up herself at one point, as proof they are related!
OK, OK, sorry for being negative. Maybe this show will be great!
But right now, it doesn't look like it will hold a candle to the drama-laden classic, "Keeping Up with the Kardashians."
Sorry, but right now I'm just not getting the "juicy drama vibes" from a show that will maybe have, like, two good-natured spats over curtain color per episode.
And it's not like there isn't plenty of drama to get into with the Cryuses — like I'D LOVE to get the inside scoop on what the heck is going on with Miley and Liam Hemsworth.
Like, we thought maybe they got secretly married. Then Miley's other sister, Noah Cyrus, said they weren't married.
Are they even together anymore!? I'm sick of the uncertainty, and I would give this new "Cyrus vs. Cyrus" the gift of my attention if I thought I would get answers.
But that's looking unlikely.
"Cyrus vs. Cyrus: Design and Conquer" will premiere on Bravo on May 25.
Citations: Miley Cyrus's Family Are Getting Their Own Reality TV Show on Bravo (Teen Vogue)