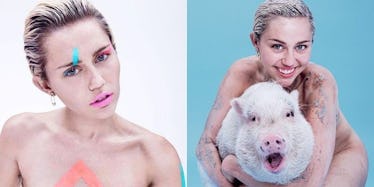 How Miley Cyrus Opened Up Doors For LGBT Community In New 'Paper' Cover
Miley Cyrus bared all in her recent Paper Magazine cover, and I'm not just referring to the (incredibly artistic) nudity.
The "Free to Be Miley" feature begins with her ventures into animal rights activism — she's a recent vegan and adamant animal lover, which was brought to light in the wake of the death of her beloved dog, Floyd — and then moves into discussing her nonprofit, The Happy Hippie Foundation, which raises funds and awareness for homeless and LGBT youth.
There is, of course, talk about her album-in-the-works, one that will be utterly distinctive from the last (I speculate, at least), but some of the most crucial and relevant information is positioned in the middle of the article: the discussion of her sexuality and gender.
Miley Cyrus has always been considered something of a spectacle, at least by those who don't appreciate her bravery and who underestimate her chops.
Everyone remembers she twerked up against Robin Thicke, and many judged whether or not she could be a serious singer with her tongue proudly thrust out of her mouth.
People were happy to cover their mouths in shock (or faux shock) as she stripped down for the "Wrecking Ball" video. And, as a celebrity, her dating life has been picked apart, as she moved from a relationship with Nick Jonas, to another with Justin Gaston, to an engagement to Liam Hemsworth and a much-followed relationship with Patrick Schwarzenegger.
But, there's more to her than all of those tabloid headlines. In the article, Miley fully opens up about some of the most personal things someone can share.
She speaks candidly about her gender and sexuality, stating:
"I am literally open to every single thing that is consenting and doesn't involve an animal and everyone is of age. Everything that's legal, I'm down with. Yo, I'm down with any adult -- anyone over the age of 18 who is down to love me."
That, in and of itself, is a beautiful statement, one that the LGBTQIA community has been screaming at the top of its lungs for years: I am open to loving the people I choose, the people I am attracted to, the people who are open to loving me back.
And, it speaks directly to the heart of the Millennial community, one that doesn't like to be labeled and one that wants to have experiences without being told what they mean, if they mean anything at all.
It's a freeing statement, a statement that opened my eyes to the possibilities of dating, love and sex that defy boundaries.
After all, if you identify as bisexual or queer, what better or more eloquent way could you say what your sexual preference means to you? And who more important to share it?
Miley Cyrus is a force of nature in today's world.
Her words and actions are slathered across magazine covers, online news outlets and television screens for the world to see and judge. But, here, in Paper, Miley leaves no room for judgment.
Her words are clear, focused and open to empathy. Who, after all, doesn't understand what it's like to be open to love?
But, she doesn't stop there.
When it comes to interviews with the press, sexuality is becoming easier to speak about.
More and more people are coming out as bisexual, and "queer" is a word that's gaining traction online, if not necessarily in the mainstream media yet.
The more groundbreaking, interesting and important thing Miley Cyrus said was this:
"I don't relate to being boy or girl, and I don't have to have my partner relate to being boy or girl."
When people speak of gender fluidity, it's sometimes difficult to know what it means.
Through the exposure of women like Laverne Cox and Caitlyn Jenner, the world is becoming more educated about what it means to be transgender.
We're used to someone identifying as being a man or a woman, and we are beginning to understand the idea of someone identifying as the opposite gender that was assigned to him or her at birth.
But, we need more than that.
According to a 2008 study done by the National Center for Transgender Equality and the National Gay and Lesbian task force, 13 percent of the 6,450 respondents identified neither as male, nor female, nor sometimes-female-sometimes-male, but as something the study called "a gender not listed here."
That 13 percent amounts to 838 people, and while the same percentage may not apply to the general population, let's say, for the sake of experiment, that it does.
That would mean that out of the 321,051,087* people alive in America, 4,1736,641 would identify as "a gender not listed here."
What could Miley Cyrus's words mean to that number of people?
What amazing motivation, self-acceptance and tolerance could this divulgence unveil? The possibilities are beyond speculation, but they're absolutely inspiring.
This exposure can only bring much-needed attention to communities that have been shunned, questioned and scrutinized in the media and behind closed doors for far too long.
What Miley Cyrus has done in her meeting with Paper Magazine has gone far beyond a typical cover story. She's opened the door for more conversation, introspection and, above all, acceptance of those who choose to exist and love without a label.
*Number of people in America at the time of publishing.