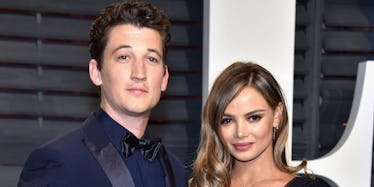 Miles Teller Got Engaged And His Fiancée's Ring Is Insanely Gorgeous
Pascal Le Segretain/Getty Images
Love is in the air, fam. Miles Teller and Keleigh Sperry got engaged, and if the solar eclipse didn't blind you, this ring will. Teller, 30, proposed to model Keleigh Sperry, 24, while on an African safari this past weekend after four years of dating. Sperry's sister, Christie Sperry York, revealed the pair's engagement on Instagram in a heartfelt post dedicated to the couple. York said in her caption,
These two got engaged while on an African Safari over the weekend!! Can't believe the last Sperry girl is engaged! Love both of you guys to pieces and so incredibly happy for this new chapter in your love story! Now come home so we can celebrate @keleigh_sperry
In one of the photos York posted, Sperry is seen holding up a red rose and a little piece of paper that read "KS & MT 5/11/13 - 8/20/17," and there's also a photo of Sperry showing off her ring to the camera with a full-grown lion in the background. Yeah, intense stuff. The pair has been pretty quiet about their relationship over the years, but Sperry's not shy about posting pictures of her and Teller on Instagram and Teller has spoken about Sperry in interviews. (She tweets with his grandma, it's adorable.) It seems like the pair has been very happy the last four years!
Now, look at this rock.
WHAT THE?! It's so pretty! Sperry has posted pictures from the romantic African safari on her Instagram, but none of the engagement yet. But never fear! There are lots of other pictures of Miles Teller and Keleigh Sperry we can obsess over until then.
Look at them all in love and what not.
And at the 2016 Met Gala! I livvvveeeeee.
And here they are at the premiere of War Dogs looking hella in love.
Congrats, Miles and Keleigh! Now, if you could just let me know if "Keleigh" is pronounced like "Kayley" or "Kelly," that'd be great 'cause I'm not really sure.