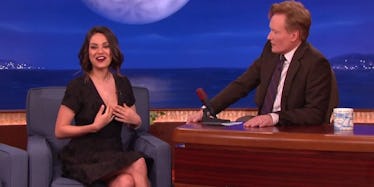 Mila Kunis Says Life With Post-Baby Boobs Is A 'Whole New World' (Video)
Mila Kunis and Ashton Kutcher had a baby girl, Wyatt, four months ago.
Besides adjusting to being a new parent, Kunis had to make other adjustments in her life.
Specifically, her breasts grew a great deal due to the pregnancy, and it's "a whole new world" to Mila because of this change.
Kunis went on "Conan" and spoke about her newfound assets.
She said,
Men actually look at my boobs. I've never had that happen before because they're just there.
Kunis is practically inviting people to stare at her chest, so if that's something you feel like doing, watch the clip up top.
Citations: Mila Kunis on Her Post Baby Body (People)