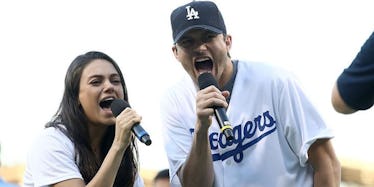 Mila Kunis Celebrated Her Birthday In Hungary With Ashton Kutcher & It's Everything
Sean M. Haffey/Getty Images
Mila Kunis and Ashton Kutcher, America's television show sweethearts, are just too damn cute! And this time their love-fest is in Hungary. Kunis was celebrating her 34th birthday with her handsome bae at an intimate dinner in Budapest. The adorable photos of Mila Kunis and Ashton Kutcher in Budapest, Hungary, make me want to squeeze them both, hard. I mean, Kelso and Jackie from That '70s Show are together in real life! It's too much.
The beautiful couple posed for a photo with the owners of a restaurant in Budapest's Jewish Quarter called Vintage Garden. The restaurant owners posted a sweet group photo to Instagram with the caption, "Na ki ünnepelte nálunk a születésnapját?" Which means in English, "Look who celebrated her birthday with us?" I'm sure the restaurant owners were thrilled to welcome the famous couple and vice versa. I personally wouldn't pick Hungary to celebrate my birthday, but last year I celebrated with a kitty pool party. So, that's where I'm at in life.
Kunis isn't just partying it up in Budapest, she's also working there. The Bad Moms actor is filming the comedy, The Spy Who Dumped Me with actor Justin Theroux.
Kunis and Kutcher are notorious jet setters. The superstar couple has been spotted in St. Tropez, London, Paris, and all over the United States, to name a few places. And that's really naming a few. Travel is definitely one of their many hobbies.
Remember when they went to Mila's birthplace in Chernivtsi, Ukraine?
What about the time they went to this Georgia brewery? Could they be any cooler? Don't mind them, they're just casually visiting a brewery. No biggie.
In this picture from their vacation in Bali, they look like supermodels. This is them not trying. Take that in.
Mila and Kutcher, y'all are making us wanderlusters jealous. Please take me with you next time. Thanks.