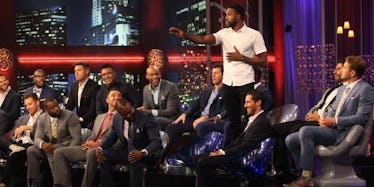 'Bachelorette: Men Tell All' Totally Ignores 'Bachelor In Paradise' Scandal & It's Getting Ridiculous
ABC
Everyone knew DeMario Jackson was going to be a controversial cast member on Bachelorette: Men Tell All. He started as a strong contender during Season 13 but quickly had his confidence put in check by an unexpected visit from a not-so-ex girlfriend. This girl claimed she was dating DeMario and had the texts to prove it. Rachel didn't have time for the nonsense and sent him home. Then, the Bachelor In Paradise scandal hit, and that's all anyone could talk about. Well, apparently... not everyone because the Bachelorette: Men Tell All ignored the Bachelor In Paradise scandal completely.
Why is this odd? Because the BIP scandal was so huge. On June 11, Warner Bros. announced production was put on hold when a producer reported sexual misconduct on set. Allegedly, a sexual incident happened between Corinne Olympios and DeMario Jackson while in a pool.
Olympios released a statement to TMZ on June 14 about the allegations. She said,
I am a victim and have spent the last week trying to make sense of what happened on June 4. Although I have little memory of that night, something bad obviously took place, which I understand is why production on the show has now been suspended and a producer on the show has filed a complaint against the production.
According to TMZ, she added,
As a woman, this is my worst nightmare and it ahs now become my reality. As I pursue the details and facts surrounding that night and the immediate days after, I have retained a group of professionals to ensure that what happened on June 4 comes to light and I can continue my life, including hiring an attorney to obtain justice and seeking therapy to begin dealing with the physical and emotional trauma stemming from that evening.
Jackson also released a statement to E! News on June 14, denying the allegations against him. He said,
It's unfortunate that my character and family name has been assassinated this past week with false claims and malicious allegations. I will be taking swift and appropriate legal action until my name is cleared and, per the advice of legal counsel, will be seeking all available remedies entitled to me under the laws.
After completing its investigation into charges on Bachelor In Paradise, Warner Bros. found there was no evidence of misconduct. The full statement says,
As we previously stated, we recently became award of allegations regarding an incident on the set of Bachelor in Paradise in Mexico. We take all allegations seriously. The safety, security, and well-being of the cast and crew is our number one concern, and we suspended filming so that the allegations could be investigated immediately and thoroughly. Our internal investigation, conducted with the assistance of an outside law firm, has now been completed. Out of respect for the privacy interests of those involved, we do not intend to release the videotape of the incident. We can say, however, that the tape does not support any charge of misconduct by a cast member. Nor does the tape show, contrary to many press reports, that the safety of any cast member was ever in jeopardy. Production on this season of Bachelor in Paradise will be resuming, and we plan to implement certain changes to the show's policies and procedures to enhance and further ensure the safety and security of all participants.
On Bachelorette: Men Tell All the cast remained surprisingly quiet on the subject. By quiet, I mean it didn't get brought up at all. DeMario was not afraid to open his mouth during the episode. He explained that the supposed girlfriend was just a side chick. Oh, that's all? Waaaaaay better.
Although it's strange the drama didn't get brought up, it's probably best. I don't think Twitter could handle it. Fans felt a little confused about DeMario being on Men Tell All in the first place.
It seems like all DeMario drama is a thing of the past.