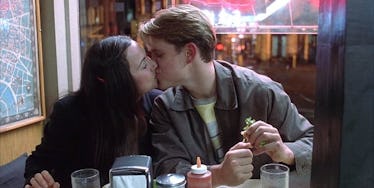 Matt Damon And Minnie Driver Reunited At The Emmys And Twitter Lost It
Miramax Films
If you're a big fan of "Good Will Hunting," then watching the Emmys probably made your night.
Toward the end of the show, Matt Damon made a special appearance and the crowd went wild.
He came on and crashed Jimmy Kimmel's moment. The two took their ongoing feud to the Emmys stage, and it was everything.
Of course, it was all in good fun. Jimmy and Matt are buddies, but even best friends have to call each other out on their shit.
And that's exactly what Matt Damon did.
Not only did he roast Jimmy in front of the entire audience, he even threw a "Good Will Hunting" burn in there.
On the way out, Matt told Jimmy,
Tell your mom I like them apples.
OH SHIT, MOM JOKES! Matt's bringing the heat.
Obviously, Twitter loved it. "Good Will Hunting" fans lost their shit.
But that wasn't even the best part, you guys.
Right after Matt made his appearance, Minnie Driver took the stage to present the next award.
YES, THAT MINNIE DRIVER. I legit haven't seen this girl since her role as Skylar in "Good Will Hunting."
Haha, just kidding. She's been around. But that movie was the greatest piece of art I've ever watched in my life.  The trailer still gives me chills.
Matt Damon and Minnie Driver briefly dated after the movie and broke up in 1998.
It was actually a very public breakup because Matt denied having a girlfriend on "The Oprah Winfrey Show." THAT'S WHY THEM BEING AT THE EMMYS TOGETHER IS AWKWARD AF!
Uhhh, oops? Just think of the good times!!!
Matt Damon, you messed up.
All in all, it was a great night for television. Perhaps this will inspire a "Good Will Hunting" sequel?
A girl can only hope.
Citations: Matt Damon Minnie Driver (E online)