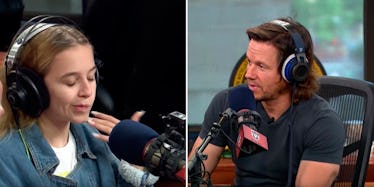 Mark Wahlberg Trolls Teenage Daughter With Embarrassing Rap On The Radio
Youtube
It doesn't matter how badass you used to be, dudes. Once fatherhood hits, it's just a slow, steady decline from hot, sexy superstar to weird dad who sleep-mumbles threats at his middle schooler on the radio.
Mark Wahlberg knows.
The actor and alleged former rapper appeared on "The Dan Patrick Show" Wednesday and brought his 13-year-old daughter Ella along for the interview.
Ella — who, prior to the interview, had her phone confiscated as punishment for whatever crimes 13-year-old girls commit these days — asked her father on-air to throw it back to his Marky Mark and the Funky Bunch days and freestyle a few bars.
Mark jumped right in and rapped:
I'm your 45-year-old father and I got to rap, And if you keep misbehaving I'm a give your behind a slap. It's called a spanking. Later on in life you're gonna thank me, 'Cause all the advice that I'm giving you is good for you. And if not, your butt and behind is gonna be black and blue.
When Ella motioned for her father to cut it, he went ahead and didn't cut it -- because he is a rapper. He's gotta rap. Right now.
Mark continued:
Don't cut it down We're giving you positive-encouragement raps. It's good information to help you behave, And then you're going to earn that phone back, girl.
Following all the great, great rapping, Ella explained the double standard she deals with at home, insisting her brothers never suffer the same punishments.
She told listeners,
My brothers or anything didn't lose their [iPad] when they were bad.
Mark, who is as amazing with airtight logic as he is dope raps, explained,
If I took their iPads they wouldn't care… They'd just go throw a ball or bounce their head off the wall and they'd still be happy. You live for the phone, so I got to get you where it counts, kid.
Dang, Ella. That's BS, girl.
Citations: Mark Wahlberg Adorably Embarrasses Teenage Daughter, Refuses to Give Her Phone Back During Live Interview (Us Weekly)