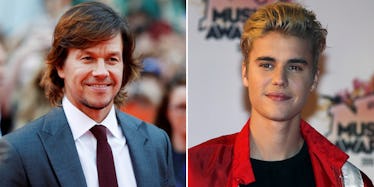 Mark Wahlberg Was Not About Justin Bieber Sending Him His Underwear Ads
REUTER
We know how Mark Wahlberg feels about Justin Bieber dating his daughter.
The 45-year-old actor recently appeared on an episode of "The Ellen DeGeneres Show" in which he spoke about the time "a very successful friend" was invited over to the Wahlberg residence for dinner.
It turns out that "successful friend" was none other than Justin Bieber. Of course, Wahlberg's 13-year-old daughter Ella was a huge fan of JB.
Despite this, the "Patriots Day" actor revealed how he really feels about Bieber dating her in the future. Here's a hint...
Walhberg recounted a past conversation with his daughter, mimicking,
'Dad, that's gonna be my husband.' I said, 'Over my dead body. Actually, over both your dead bodies, I'll just go back to jail.'
BURN! 
No matter how cool Justin is with the Wahlberg family, he'll never get a chance to date Ella. And I don't know about you, but I would NOT test Mark Wahlberg. Have you even seen "Daddy's Home?!"
Days after his interview with Ellen, Wahlberg appeared on "Conan" where he remembered the time Justin Bieber sent him a bunch of photos in his underwear. The photos were advertisements from Bieber's Calvin Klein campaign.
AWKWARD!
This particular conversation between host Conan O'Brien and Mark Wahlberg began when Conan spoke about the underwear ads Wahlberg used to appear in during the early stages of his career.
Remember this version of Mark?
All right, that's enough of that. Ladies, settle down!
Of course, Conan couldn't just bring up Wahlberg's old Calvin Klein ads without mentioning JB's underwear modeling work. The 53-year-old talk show host asked,
How do you feel about Justin Bieber doing it, did he reach out to you in any way?
Wahlberg then responded, saying,
Actually, you know what, he is a very nice young man, he's a friend of mine, I've spent time with him. He did send me the pictures and I was like, 'You don't send a guy pictures like this in your underwear.'
I agree, Marky Mark. What the fuck was Bieber thinking? Though, it does make perfect sense why he'd send these over to Mark in the first place. The man is the originator of the bad boy Calvin Klein ads.
Bieber is essentially paying homage.
Wahlberg added,
He was proud, you know, it was a big deal for him to do. And I was like, I am at 45, a dad and a husband, a father-of-four, I'm trying to move away from that image. But, you know what? People give him flack for growing up in the spotlight, and they say he has a bit of an attitude, but look at the look on my face. I mean, I was the biggest punk in the world. He's very nice and young and polite in comparison to what I was.
So, there you have it. Mark Wahlberg thinks it's totally weird Justin Bieber would send such photos to him, but the way I see it is at least he didn't have the guts to send them to Ella.
Now, that would just be wrong!
Oh, and Justin, never send your underwear pics to another grown man again. EVER. If anyone wants to see them, I'm sure they're just a Google search away.
Check out the video above!
Citations: ustin Bieber Sent Mark Wahlberg His Underwear Ads; Mark Wahlberg Wasn't Delighted (People)