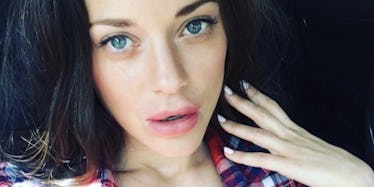 Marion Cotillard's Face Looks Unrecognizable And Everyone's Blaming Kylie Jenner
Instagram
Usually, we stay talking about the Kardashian/Jenner family mouths.
What? They have the most entertaining mouths.
You never know what look they're going to pull next, which is impressive if you think of them in terms of just crazy mouths, existing independently from a larger human being.
They leave a lasting impression, like a beloved grandparent or a David Fincher movie.
The stars of "Keeping Up with the Kardashians" aren't the only ones experiencing that new mouth life.
The alteration shocked fans who compared the actress to Kylie Jenner and Kat Dennings.
According to Us Weekly, Marion did not get Kylie-style lip injections. The pictures she posted were snapped on the set of her new film, "Rock'n Roll," in which she plays herself alongside partner, Guillaume Canet.
Off-screen, the couple are expecting their second child in September 2017, an announcement they made following talk Marion had engaged in an affair with fellow married "Allied" co-star Brad Pitt.
Brad is currently mid-divorce from '90s lip diva Angelina Jolie, though rumors of his affair were likely a result of his on-screen chemistry with Marion in a film the actress admitted on "The Late Show with Stephen Colbert" had "a beautiful love scene."
The host noted,
I've been told there are a fair amount of sex scenes in this movie... One of them takes place in a sand storm, right? Like you're in a car and there's a sand storm. Please tell me the windows are rolled up...
Rather than indulge him too much, Marion replied,
Let's imagine, you're with your wife, in bed or anywhere, here, and then all those people are watching. Yeah, cameras, like 50 people are watching. Do you still find it sexy? ... But it's a beautiful love scene, very beautiful.
Ah, yes, beautiful. It's as beautiful as a prosthetic mouth.
Citations: Marion Cotillard Debuts Fuller Lips and the Internet Can't Handle It — But No, She Didn't Get Lip Injections (Us Weekly)