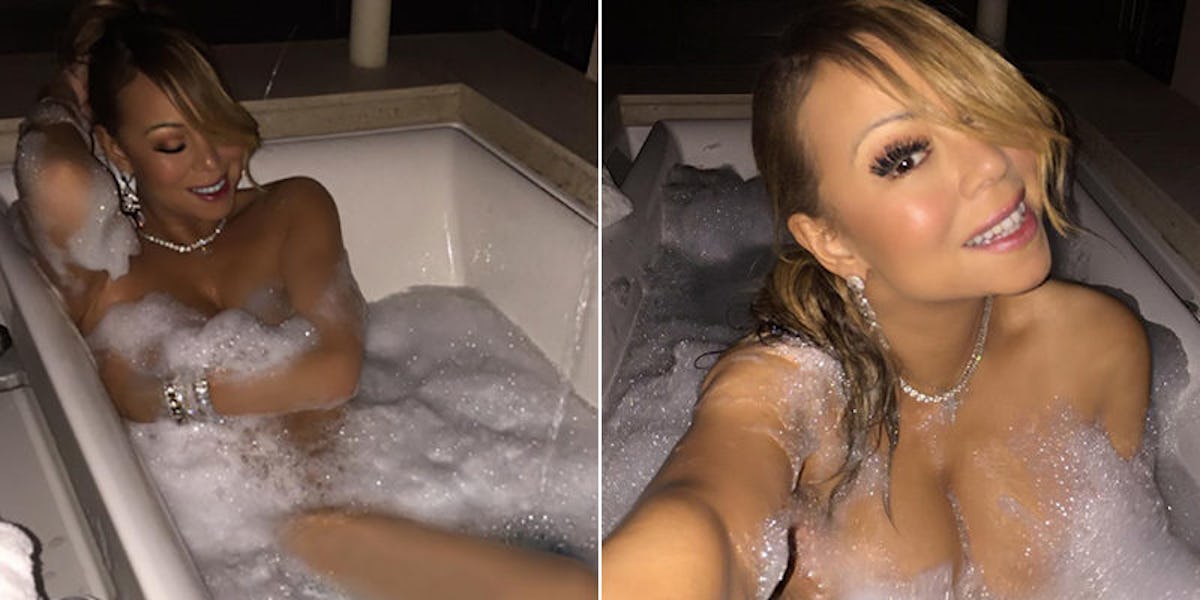 Mariah Carey Finally Explains Why She Took Those Naked Bath Selfies
Instagram
While her ex-husband Nick Cannon preps for the birth of his child with ex Brittany Bell, Mariah Carey is living her best independent life after her split from Australian businessman/fancy money boy James Packer.
On Wednesday, the iconic singer visited "The Ellen DeGeneres Show" dressed in a red silk robe and offered some insight into her single situation.
While discussing Mariah's new docuseries, "Mariah's World" — which gives fans a behind-the-scenes look at her life on tour — Ellen asked Mimi about a particular scene in which she tries on dresses for a wedding that never ended up taking place.
The "All I Want For Christmas Is You" belter shared,
I think I'm doing well… Everything happens for a reason. Things are the way they are… It's kind of difficult to talk about at this moment, so I'm just going to compliment you on these decorations, once again, because they are fabulous and I am here.
Honestly? Fuck it. Well handled. Mariah has been giving us the goods for 900 years, and if she doesn't want to delve into her personal struggles on daytime TV, let her bluntly avoid the question.
After all, the holidays are a time for evading the emotional tragedies our loved ones saddle us with while also staring them squarely in the eye over the carcass of a dead bird.
Eventually, her docuseries will offer fans more info on her diamond-encrusted existence, anyway. The first episode hits E! on Dec. 4 at 9 pm and, according to Ellen,
[James Packer] didn't want to be in the docuseries at all, and yet he's in it. You see him... He's in it, cause I saw it.
Woahhhhh, Ellen! Blowin' up ALL the spots!*
The host also addressed Mariah's sensual bath photos, which hit Instagram in September and caused a bizarre uproar among followers.
Of the pics, Mariah said,
It was 4 in the morning... and I decided to take a bath and then I was bombarded by somebody. I'm not gonna say who it was... and she was like, 'Let's take a picture!' ... I'm like, 'Nooo! Go away!' But, by the way, I'm wearing a bodysuit under that. Nobody can see.
Confirmed: Mariah Carey is a Never Nude.
*TBH... Thank you, Ellen, for this juicy, juicy info. You are the queen of digging up dirt in the most respectful, polite, conscientious way possible.
Citations: Mariah Carey Breaks Her Silence After James Packer Split: "I'm Great" (E! News)