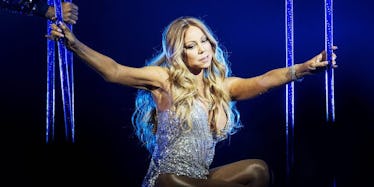 Mariah Carey Is Pulling A Taylor Swift And Working On A Breakup Song
REX/Shutterstock
I'm all for Mariah Carey pulling a Taylor Swift.
According to a report on TMZ, the 46-year-old (or 47... I'll get to that later) music star recently finished recording a breakup track about her ex-fiancé James Packer.
If that news didn't get you friggin' jazzed, Mariah allegedly worked on the song and a music video for the track with YG.
NEW MARIAH MUSIC VIDEO COMING OUT SOOOOOOOON!!!!!!
Carey and YG have reportedly been working on the song since Saturday, January 21, wrapping on the music video within a day after they were done recording the actual song.
The video is set to premiere on the season finale of "Mariah's World" this weekend.
There isn't much other information out there about the song except according to TMZ, Mariah is hoping it becomes an "anthem for women overcoming harsh breakups."
Could it be 2017's answer to "Hello"? I mean honestly, probably not, but Mariah is super due for a smash hit, and Christmas is like a full 11 months away... so maybe this is it?
TMZ caught up with the duo as they were leaving Catch on Sunday night, potentially after working on music over the weekend.
OK, they're clearly being shady about something. When one of the reporters asked YG if they were collaborating on anything, he pleaded the fifth and said,
I don't know what we doing.
Mariah's potentially empowering breakup song comes at a weird time as she's seemingly gotten over her split from James Packer.
In fact, ab-wise, she's gotten over him a shiny eight times as she's currently going out with dancer Bryan Tanaka (seen here on the right).
Now that that's all out of the way, check out this completely unrelated Mariah gemstone I found:
Is she 46? Or 47? In an age where secrets barely exist and information is available at the click of a button, Mariah has kept her age A MYSTERY.
Mariah Carey is low-key an espionage genius and I would 1,000 percent watch a spy movie with her as the lead.
Citations: Mariah Carey Working On New Break-Up Track With YG (TMZ)