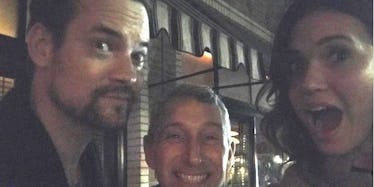 Mandy Moore And Shane West Had 'A Walk To Remember' Reunion And We're In Love
Instagram
One condition on reading this article: You have to promise not to fall in love with this selfie of Mandy Moore and Shane West.
Problem? No? OK, good, let's get to it then.
Jamie and Landon have reunited at long last.
On Sunday, the 32-year-old "This Is Us" actress shared a photo on her Instagram with her "A Walk To Remember" co-star Shane West and director Adam Shankman.
The selfie lighting situation was less than ideal, but it still gave me all the feels when I saw it.
Mandy wrote in the caption,
Welp. These 2 gentlemen are still some of the best around. Loved catching up with ya, @theshanewest and @adamshankman. My ❤ is full. #awalktoremember #reunion
UM, MY HEART IS EVEN FULLER, MANDY!
This is easily the best photo I'll see this week, bad lighting be damned. Jamie and Landon's love transcends lighting, OK?!
And here's a fun fact that will make you all too aware of the unstoppable passage of time: "A Walk to Remember" turned 15 years old last week.
Yep, the now classic film first hit theaters on January 25, 2002, almost exactly 15 years ago.
In an interview with Entertainment Weekly to honor the anniversary, both Mandy and Shane looked back on their younger selves fondly.
Mandy said,
Shane was so cool. Everything about him – the way he dressed, the little cigarettes that he smoked, and the music he listened to. He was the character to me and there was definitely a part of me that absolutely fell in love with him.
And Shane said of Mandy,
Mandy was really nervous, I remember, in the beginning, but once she committed to it she slipped right into the role effortlessly and it just really fit her.
Ugh, no I can't handle how cute this is. They were totally their characters! This love story is real -- without all the tragic cancer stuff!
I'm just saying. Mandy recently divorced her husband, and as far as I know Shane isn't married or dating anyone at the moment.
Now they are hanging out and posting cute selfies together, so maybe this could really happen.
Oops. I told you not to fall in love with the selfie.
Citations: A Walk to Remember Reunion: Mandy Moore, Shane West and Adam Shankman Get Together Again (E! News)