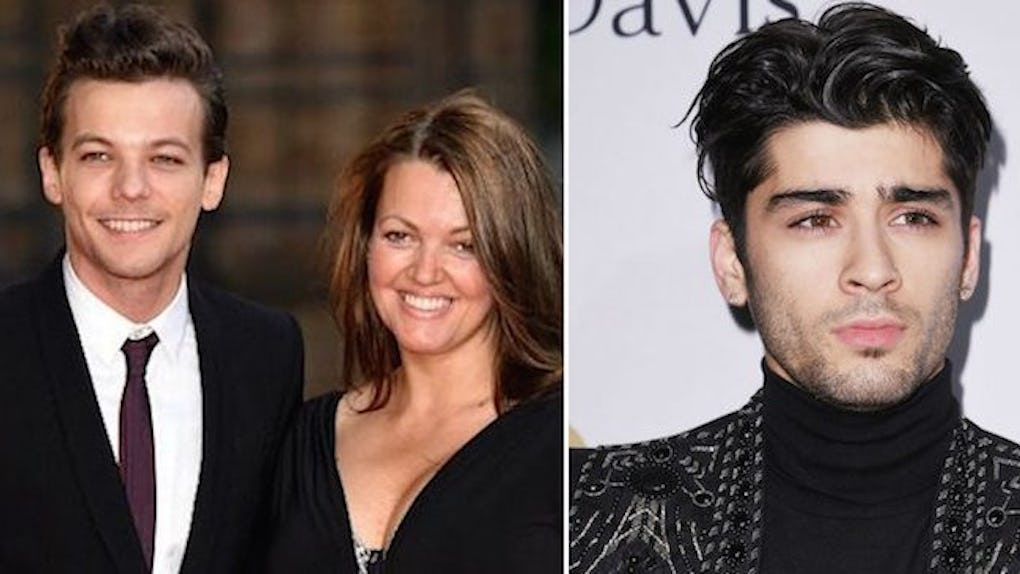 REX/Shutterstock/Kevork Djansezian/Getty Images
Louis Tomlinson Mom's Wished He & Zayn Would Reunite After She Died
Louis Tomlinson revealed his mother asked him to reunite with Zayn Malik as one of her last wishes to him before she died.
Tomlinson's mother, Johannah Deakin, died after a battle with leukemia in December 2016. She was 43 years old.
Fans came out in droves to support Tomlinson following her death, including Malik, who said in a tweet, "Love you bro! All of your family is in my prayers. proud of your strength and know your mum is too x."
In an interview with The Sun on Friday, July 21 — the release date of his anticipated new single "Back To You" — Tomlinson said,
My mum said: 'You've got to get back in contact with Zayn. Life's too f*cking short.' A mother's intuition is just f*cking crazy. It always felt supernatural to me. My mum always knew what I was feeling and what I wanted.
He then revealed that he honored his mother's wish and met up with Zayn to "clear the air."
I can't stand to hold a grudge with anyone. It doesn't sit with me right. If there's any animosity, just clear the air. I met up with him and it was nice. Zayn was always good for me in the band because he was my go-to if I wanted to piss around. I could always break the rules a little with Zayn. So after that whole thing, it was that brotherly love. We will always have that love for each other. I can't speak on behalf of him but we really care about each other.
Before this, Malik and Tomlinson reportedly hadn't spoken in a year.
Tomlinson added that the One Direction members have grown closer together ever since the group broke up last year. They even came to watch Tomlinson's X Factor performance after his mother died in a show of support. We didn't hear about it because they didn't post about it. Their bond could truly melt my ice-cold heart.
He said,
We're all such good mates. If you look at the X Factor final when I performed all the boys came to support me. It wasn't one of those stupid fucking celebrity things where it's like: 'Let's all get in a picture and put it on Instagram and show everyone that we're best mates.' We didn't even put it online. There are always those little things that people don't hear about.
I would now like to add that Tomlinson's "Back To You" single was released the same day Harry Styles' film debut, Dunkirk, comes out in theaters.
Make of that what you will, 'cause I sure as hell am.