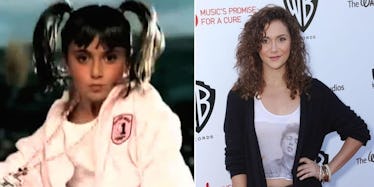 This Is What The Little Girl Who Danced With Missy Elliott Looks Like Now (Photos)
Missy Elliott stole the halftime show at this year's Super Bowl. And that thrust Alyson Stoner back into the cultural zeitgeist.
Stoner was the little girl with the crazy dance moves featured in a number of Missy's videos. You probably remember her best from the "Work It" video.
Here's Stoner working it:
Stoner is 21 years old now and all grown up. She's become a real person!
This is what she looks like now:
Stoner is still dancing as well as singing and acting. She played Channing Tatum's little sister in "Step Up" and has her own musical career.
The video for her song "Dragon" has over one million views on YouTube.
Due to Missy's performance on Sunday, Stoner garnered some attention on social media. She wasn't at the Super Bowl, but she did tweet about it, before and after the halftime show.
Stoner tweeted this before the performance:
To the literal 65 people asking if I'm about to dance with Missy at halftime, pic.twitter.com/KYqPw5RU4I — Alyson Stoner (@AlysonOnTour) February 2, 2015
 She tweeted this earlier today:
Citations: What the Little Girl From Missy Elliots Music Videos Looks Like Now (ET Online)