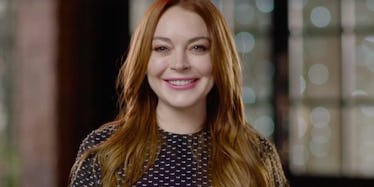 Lindsay Lohan Has New Reality Prank Show And The Trailer's So Inappropriate
Facebook
Lindsay Lohan is back, "bitches," and she has a few jokes up her sleeve.
The actress is returning to the spotlight with her own prank show called "The Anti-Social Media," and it looks weirdly intriguing.
*wink*
A trailer for the new series was released on Facebook Tuesday night, and it features Lindsay giving a brief overview of the show's concept.
Based off the information we have so far, the series seems like a millennial version of "Punk'd," where Lindsay channels her inner Ashton Kutcher by pranking people through their social media accounts.
In the trailer, Lindsay explains her love for social media and admits no one should ever leave their phone around her.
However, during the show, she will hijack contestants' phones for 24 hours and give them three challenges they must complete via social media.
If they complete the challenges (which look pretty damn embarrassing), they'll win "fabulous" prizes.
Watch the trailer below:
Lindsay, who knew you were such a jokester?!
The teaser gives an example of how witty Lindsay Lohan can be when she hacks a contestant's phone. The contestant, named Charlie, is in for a shock.
She asks Charlie's best friend for some info Lindsay can use to her advantage during the hack, and starts daring Charlie to complete tasks like posing naked at an art class and making out with his boss.
Yeah, it's kind of inappropriate...
At the end of the trailer, Lindsay admits, "I decided to dare people to really question how much their social media is worth -- I am really good."
Well, this is by far one of the strangest things Lindsay's done to try to step back into the spotlight, but she already has us hooked.
Her announcement isn't too much of a surprise, though.
The actress has been hinting at getting back on camera a few times within the past month or two, insisting she'd play Ariel in the new "Little Mermaid" remake and write a "Mean Girls 2" if Tina Fey is too busy.
Recently, she even said she'd make a "Freaky Friday" sequel.
GIRL, CALM DOWN.
Even though "The Anti-Social Media" isn't hitting the big screen, she'll still have her time in the spotlight on TV and it seems like it's worth a watch, right?
Citations: Lindsay Lohan Returns to the Spotlight With New Reality Prank Show (ET)