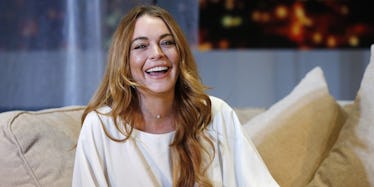 Lindsay Lohan Called Out Her 'Mean Girls' Co-Stars For A Sequel
REUTERS
Your prayers have been answered, long-time "Mean Girls" fans. Well, kinda.
A little birdie came and told me Cady Heron is looking to make a return to the big screen alongside The Plastics... OK, fine. There was no little birdie involved in the delivering of this awesome news.
As a matter of fact, it was Lindsay Lohan herself who called out her legendary "Mean Girls" co-stars for a sequel to their blockbuster hit.
The original movie, which was released back in 2004, was about a girl named Cady (played by Lindsay Lohan) who moved to the city of Evanston, Illinois all the way from Africa.
The film takes viewers on a wild ride through Cady's world of struggle as she attempts to befriend the kids at her new high school. That's when she meets Damian and Janis who eventually get caught in the middle of an epic BFF war with The Plastics over Cady.
If you HAVEN'T seen "Mean Girls," it's quite obvious that you've been living under a rock. I don't care who you are -- there is NO excuse.
Lindsay Lohan took to Instagram to call out her co-stars Rachel McAdams, who plays Regina George, and Lacey Chabert, who plays Gretchen Wieners. She even tagged the film's original director Mark Waters in the post.
It's safe to say LiLo wants this "Mean Girls" sequel as much as we do!
The post caption reads,
#TBT @rayannemcadams@thereallacey #meangirls@markwatersfilm Miss you all... sequel?
I'll answer that question for you right now, Lindsay: DUH!
Here's Lindsay's Instagram post questioning a "Mean Girls" sequel. *Fingers crossed*
That's what a real #TBT post on the 'gram is supposed to look like! I mean, this is the 2016 version of "get in loser, we're going shopping."
If Lindsay and the rest of the original cast members were able to make us forget about the horrible "Mean Girls 2" movie that didn't feature any of them, they might actually be able to make "fetch" finally happen.
After some quick research, it appears that Linsday's post hasn't been answered by McAdams, Chabert or Waters yet...
But here's to hoping they do... with a FUCK YEAH.
Now, there's just one more question left to ask -- if this sequel were to happen, how many candy grams do you think Glen Coco would rack up this time around?