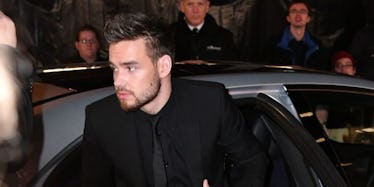 Liam Payne Dodged A Bullet At A Club In Hollywood This Weekend, Literally
REX/Shutterstock
Liam Payne was enjoying a night at The Peppermint Club in West Hollywood Saturday night when he experienced a close call with gun violence.
A man approached the club, which is a popular spot for celebrities, and attempted to enter with a fake ID.
After an altercation with security, he went to the parking lot and fired shots into the air outside of the club. He escaped and is still on the loose.
The One Directioner, who is currently expecting his first child with singer Cheryl Cole, was one of the many club-goers who panicked over the gunfire.
While the shots rang out, people stayed inside the safety of the club and tweeted about the very scary experience. Police were able to find a number of shell casings after they arrived.
Amanda Williams, who was at the club during the shooting, told Radar Online,
We were waiting for someone to let us in and it was really crowded. I heard someone shout, "Security, security!" I turned around and saw a guy with a gun, and then he just started shooting. He was white with blond dreadlocks and a face tattoo.
According to Williams, the gunman fired six shots. She continued,
Everyone was shouting, 'Get down, get down.' It was really scary... I was on the sidewalk and there were people on top of me. Everyone then got up and ran as far from the club as possible.
She added Payne was "lucky to be alive."
Williams mentioned that West Hollywood is not "sketchy," and she was incredibly surprised something like this happened in the area.
Liam Payne apparently left about half an hour after the shots were fired.
Thankfully, no one was injured during the shooting. Police are still looking for the suspect who opened fire.
We're just glad Liam and everyone else at the club that night managed to leave unharmed.
Citations: LIAM PAYNE CLOSE CALL AT CLUB ... SHOTS FIRED (TMZ)