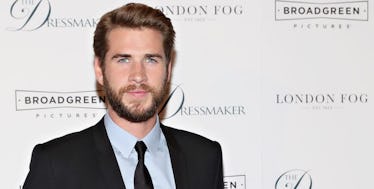 Liam Hemsworth Apparently Doesn't Want To Be Labeled As A 'Straight Dude'
Getty Images
Miley Cyrus is always one for speaking the truth, so it should come as no surprise that her recent interview with Billboard touched upon some sensitive topics, including the sexual identity of her smoking-hot fiancé, Liam Hemsworth.
The 24-year-old music sensation first reiterated how she represents herself to the public, not conforming to any gender stereotype with the way she dresses or acts.
"I'm a little bit boyish," Cyrus told Billboard. "But I can also be super femme and dress as a bunny rabbit. Who I'm with has nothing to do with sex ― I'm super open, pansexual, that's just me."
Pansexuality, the attraction to someone (whether sexual or otherwise) regardless of their sex or gender, is something Cyrus has identified with since 2015.
Apparently, it seems as though Hemsworth also shares her sentiments on gender and sexuality.
After stating that she doesn't like her "dudes to be dudes," even though she's engaged to a "straight dude," Liam Hemsworth, Cyrus revealed Mr. Australia isn't a fan of being pigeonholed into that gender stereotype.
Despite what people may assume of Hemsworth's sexuality, he'd apparently prefer if he wasn't classified as such.
"He's always like, 'Well, don't call me that!'" Cyrus said.
She went on to say that, despite the fact that she constantly thinks about her own gender, Hemsworth never really thinks about his life as a testosterone-filled dude.
Cyrus said,
I ask him sometimes, 'Do you like being a boy?' And he's like, 'I don't really think about it.' And that's crazy to me, because I think about being a girl all the time. I'm always like, 'It's weird that I'm a girl, because I just don't feel like a girl, and I don't feel like a boy. I just feel like nothing.' So when someone's too ­masculine, that really grosses me out.
It's great to see someone who otherwise looks so masculine not allowing themselves to be defined solely by their gender. There's absolutely nothing wrong with being a tough guy with a soft side.
It seems as though Cyrus has truly found herself the perfect partner in Hemsworth.
Being related to "Thor" is just an added bonus.
Citations: Miley Cyrus: Liam Does Not Want Me Calling Him A Straight Dude (The Huffington Post), Miley Cyrus Breaks Silence on Rootsy New Music, Fiance Liam Hemsworth & America: 'Unity Is What We Need' (Billboard)