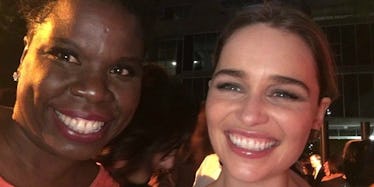 Leslie Jones Met The 'GOT' Cast At The Emmys And Live-Tweeted It All
Twitter
Sunday night, the HBO hit "Game of Thrones" took home 12 Emmy awards and absolutely crushed the evening.
Following its big night, "GoT" officially has the most Emmy wins in television history.
While I'm sure there are plenty of "Game of Thrones" fans around the globe who are pumped about the show's huge achievement, I'm almost positive no one was more excited than "GoT" superfan Leslie Jones.
If you're unaware, Jones is absolutely in love with the hit HBO show. From her amazing live-tweets of episodes to her joining Seth Myers to watch the insane "Battle of the Bastards" episode from season six -- Jones is as big a Throner as it gets.
Sunday night, following the Emmy Awards, Leslie Jones got to live out every fan's fantasy by hanging with the cast and crew of "Game of Thrones."
Lucky for us, she live-tweeted it all.
Here's Leslie Jones hanging with the Mother of Dragons, Daenerys Targaryen.
Jones also got to kick it with the King in the North, Jon Snow.
Here's Leslie Jones chilling with one of the baddest bitches in Westeros, Brienne of Tarth.
You just know Jones had to take a selfie with Sophie Turner, who plays Sansa Stark on "Game of Thrones."
Leslie Jones capped off her epic night by taking a picture with the showrunners, David Benioff and Dan Weiss.
I am beyond jealous of you, Leslie Jones.
Citations: Leslie Jones Gives the Best Play-by-Play of the Emmys After-Parties, Says She Wants to Have Sex With John Mayer (Entertainment Tonight)