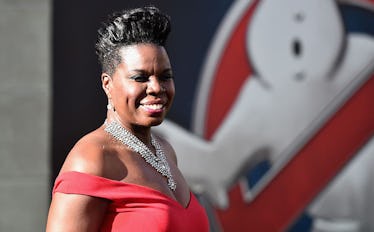 Leslie Jones Is Hosting The BET Awards And She Wants You To "Get Ready To Laugh"
Alberto E. Rodriguez/Getty Images
Leslie Jones will be hosting the 2017 BET Awards this Sunday, June 25, so you know what I'll be doing all weekend: preparing to laugh my *ss off.
Elite Daily was able to talk to the SNL star about what fans can expect from the awards show, and let me tell you, this interview will pump. you. up.
When I was first connected on the phone with Jones, she was in the middle of ordering a margherita pizza. If this woman isn't your hero, I don't know who is.
After giving the delivery girl $50 or whatever, Jones was able to talk with me about the BET Awards. First, I asked her if she has any surprises up her sleeve for the big night. She tells me,
Just get ready to laugh. That's really what I'm gonna… get ready to seriously laugh. Like not no pretend laugh. You know how sometimes people try to set up stuff … no, I'm actually gonna make you really laugh.
Honestly, I'm ready. She adds,
You're gonna have a lot of fun. It's gonna be like one of those shows like, 'oh man, what's she gonna do next?'
GIRL, YOU'RE GONNA KILL IT. In terms of her hosting style, Jones did clarify she's "not a roaster." She explains,
If I roast – if I do anything, I make everybody laugh. I want everybody to be laughing. I want everybody to be relaxed in the audience. I don't want them to feel like they're going to be attacked or anything. I want everybody to enjoy themselves.
The BET Awards will take place at the Microsoft Theater in Los Angeles, California. Therefore, it's gonna be hot, hot, hot.
I asked Leslie Jones if she has any hacks for how to survive the heat on the red carpet. She shares,
Oh, I'm gonna have all kinds of fans and umbrellas and stuff because I sweat. I'm a real woman, so yeah I'm gonna have all kinds of fans and umbrellas and stuff.
I WILL DIE IF I SEE JONES IN AN UMBRELLA HAT. Please, girl, we need it.
Be sure to watch the 17th Annual BET Awards this Sunday, June 25, at 8 p.m. ET on BET. You can check out the full list of nominees here.
Good luck, Leslie! I'll be laughing at your jokes all night long.