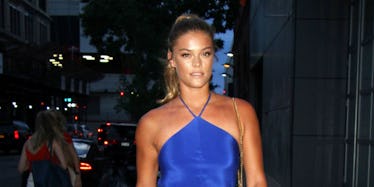 Leonardo DiCaprio's Hot GF Nina Agdal Revealed Her Go-To Workout Routine
REX/Shutterst
Everyone always asks me what my workout routine consists of. They're constantly saying, "Hope? What are you doing? You look awful. Are you OK?"
The answer is no. I am not OK. But maybe learning Nina Agdal's exercise regime... maybe that will get me toward being OK.
The 24-year-old model and girlfriend of Leonardo DiCaprio showed off her boxing skills to ET on Thursday at Overthrow Boxing Club in New York City.
While promoting Muscle Milk's Coffee House at the Rise and Grind boxing class, she said,
I always tell myself [working out is] the one thing I won't regret. Like, you'll always regret that slice of pizza, you'll always regret that glass of wine, [but] you'll never regret a good workout.
Uh, sorry.
I know it is crazy that I can't relate to a supermodel (we do have so much in common, if you ignore my 5'2" frame and also all of my face and body), but I never regret a glass of wine.
OK, it is official. If I didn't know it before, I certainly know it now.
Nina Agdal can 100 percent kick my ass.
The model said, when it comes to working out, variety is the spice of life,
I do so many different things. I do Y7 Yoga, I take a lot of Akin's Army classes, soul cycle, boot camps, tone house, SLT, boxing. I do everything.
I don't know what Y7 Yoga, Akin's Army camp or boot camps are, but I think Nina is preparing to defend this great country of ours?
But boxing may be Agdal's favorite, because of the way it tones all of her muscles. She said,
You get every element in it. You have the strength, you have the cardio -- it kind of feels like a sport, so you can always be better. It's just really fun.
Dang, Nina, you scary.
She admitted that she's a bit bad a dieting, saying,
I'm not gonna lie, I'm kinda the worst with a diet. If I have to cheat, I'll have a Frappuccino with whipped cream, but I can't do that every day.
Meanwhile, I am currently surrounded with my order of three taquitos and four tacos... Dinner for one? Yes.
But the delivery guy brought me two forks.
The Denmark native said,
When I have a really big shoot. I start thinking about the calories and how much I'm eating compared to how much I'm working out. I think it's a balance -- you can't go too crazy about it because then it just becomes way too restricted.
So, if you want to get a body like Agdal, just watch what you eat, step into the ring and throw some fists.
Citations: EXCLUSIVE: Nina Agdal Shares Workout Secrets, Reveals the Downside to Being Leonardo DiCaprio's Girlfriend (ET Online)